Heavy Hitters: Apple's New iPad Mini is Officially Here, YRC Worldwide Crashes 23%
Shares of Potbelly (NASDAQ:PBPB) jumped more than 4 percent in late afternoon trading. Potbelly reported a quarterly profit of $2.2 million, down from $2.5 million a year earlier. However, revenue increased 12 percent to $78 million. Potbelly also opened nine new shops during the quarter. "We are pleased with our third quarter results. This was our first quarter of reporting as a public company and it was important that we achieved the growth results in line with our long-term targets. Our adjusted net income growth of 26.7 percent was a result of continued top and bottom line growth in our comparable shops, while opening nine new shops system-wide during the quarter," said Aylwin Lewis, chairman and chief executive officer of Potbelly.

Apple (NASDAQ:AAPL) shares managed to edge slightly higher on Tuesday and continued to rise in late afternoon hours. Three weeks after its introduction, the Apple iPad Mini with Retina display has hit store shelves, at least virtually, as it's now available for purchase through Apple's website. The 16GB and 32GB Wi-Fi-only models are displayed with shipping times of one to three business days, while the other models are looking more toward five to 10 business days. The prices start at $399 for the 16GB model, $499 for the 32GB model, $599 for the 64GB model, and $699 for the 128GB model.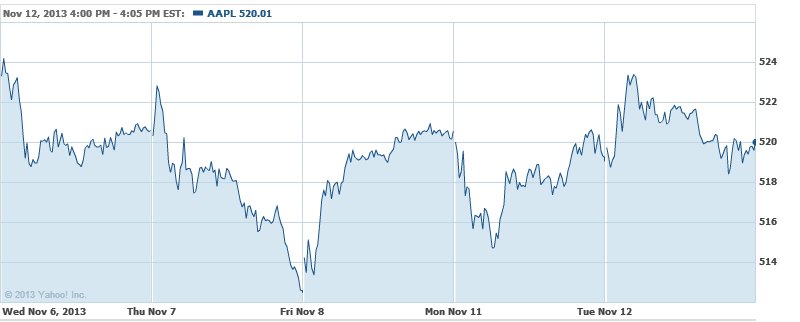 Shares of US Airways Group (NYSE:LCC) closed 1 percent higher on Tuesday and continued to gain in late afternoon trading. The U.S. Justice Department will allow the merger between US Airways and American Airlines (AAMRQ.PK) to go through after the airlines make some divestitures of takeoff and landing slots at several airports. Now that they've reached an agreement, the two parties won't be going to a trial scheduled for November 25. The DoJ had originally sued to block the merger on the belief that it would cut down too much on competition and raise airfare prices for consumers.

YRC Worldwide (NASDAQ:YRCW) shares crashed 23 percent in late afternoon hours. YRC Worldwide reported a quarterly loss of $44.4 million, compared to a net profit of $3 million a year earlier. Revenue edged slightly higher to $1.25 billion, but missed Wall Street's expectations. "The decline in year-over-year consolidated operational performance for the third quarter is primarily attributed to YRC Freight," said YRC Worldwide CEO and recently-appointed YRC Freight President James Welch. "Our third quarter performance was hindered by declines in service, manpower shortages and declines in yield. During the quarter, the YRC Freight network was 'out of cycle,' which caused our service to decline in certain lanes."

Don't Miss: Will This Generation Come Up Short in Retirement?
Follow Eric on Twitter @Mr_Eric_WSCS