Heavy Hitters: Bed Bath & Beyond Jumps 4%, Apple Receives Upgrade
Shares of Bed Bath & Beyond (NASDAQ:BBBY) jumped more than 4 percent in late afternoon hours. The home retailer posted quarterly earnings of $1.16 per share, topping expectations for $1.15 per share. Bed Bath & Beyond also reported better-than-expected sales. During the fiscal second quarter of 2013, the Company repurchased approximately $257 million of its common stock, representing approximately 3.5 million shares.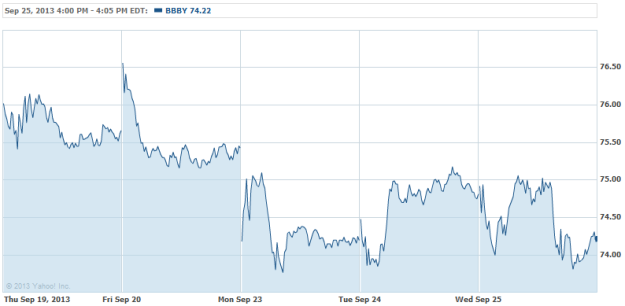 Jabil Circuit (NYSE:JBL) shares sank 3.8 percent in late afternoon trading. The company reported better-than-expected quarterly earnings of 56 cents per share on revenue of $4.8 billion, but the outlook disappointed Wall Street. "Delivering record revenues, generating more than a billion dollars of cash flow from operations, and achieving a core return on invested capital of 21 percent are clear highlights of our fiscal year," said Jabil Circuit's CEO Mark Mondello. "In addition, we are pleased to return nearly $200 million in capital to shareholders through dividends and share repurchases, while continuing to thoughtfully invest capital back into the business, both organically and acquisitively, with an eye on long-term earnings growth," said Mondello.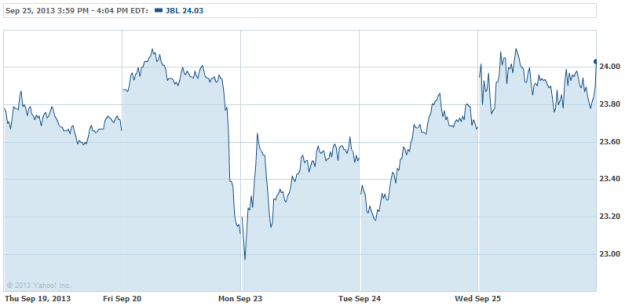 Wal-Mart (NYSE:WMT) shares dropped 1.5 percent on Wednesday, but edged slightly higher in late afternoon hours. Wal-Mart is reportedly running into a little bit of retail trouble, or is it? That question is still up in the air as Bloomberg and CNBC appear to disagree over the answer. Bloomberg reported that Wal-Mart is cutting its orders with suppliers due to inventory backlog. However, CNBC responded to that story just minutes later, claiming that the report is "completely false" according to Wal-Mart spokesman, David Tovar.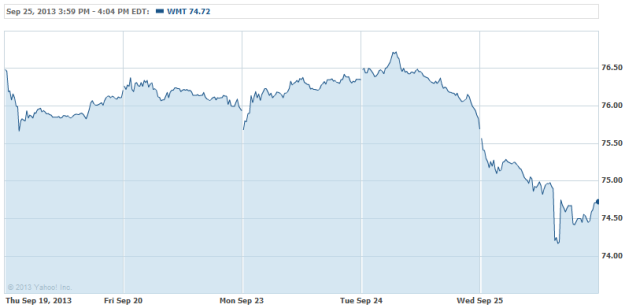 Shares of Apple (NASDAQ:AAPL) climbed higher in late afternoon trading. Apple's new iPhone models have posted record-breaking sales since being released on Friday, and the company's expected earnings for its fiscal fourth quarter have been revised upward by Morgan Stanley analyst Katy Huberty. She raised her earnings per share expectations from $7.51 to $8 for the fourth quarter. Huberty estimates that Apple sold 4 million iPhone 5C and 3 million iPhone 5S devices over the devices' opening weekend. Apple shares are still in red territory for the year.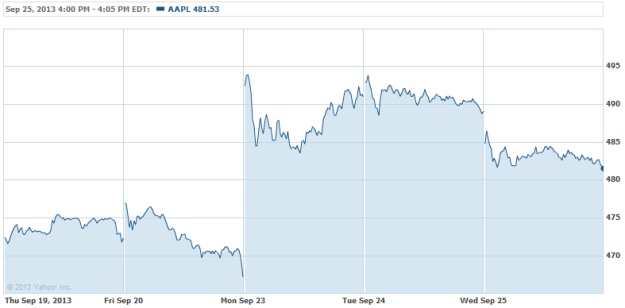 Don't Miss: Did Apple Single-Handedly Boost Corporate Buybacks?
Follow Eric on Twitter @Mr_Eric_WSCS