Heavy Hitters: BlackBerry Finds Some Love, Apple Shares Continue to March Higher
After plunging more than 30 percent over the past week, shares of BlackBerry (NASDAQ:BBRY) may finally be finding some support. Shares closed at $9.65 on Wednesday and edged slightly higher in late afternoon trading. An analyst from TD Securities doesn't think the struggling company is a Sell just yet, maintaining a Hold rating on the stock but reducing the price target from $17 to $13. Scott Pennar of TD Securities said more time is needed to see how the Q5 model, which has yet to launch, performs before completely losing faith in BlackBerry.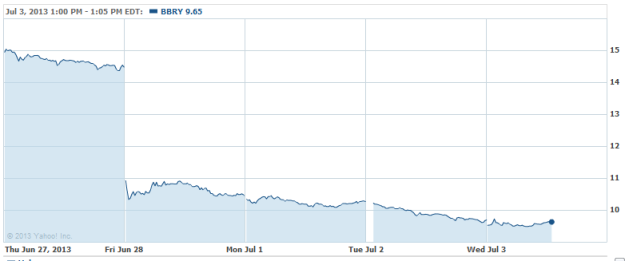 Shares of Toyota Motor (NYSE:TM) closed flat on Wednesday, despite recalling 185,000 of its vehicles around the world because a problem with the electric steering system. The glitch makes the steering heavier, and although no accidents have been reported, the automaker is recalling its Yaris and Verso-X models. Any Yaris models made from November 2010 to March 2012 are being recalled, along with the Verso-X, manufactured from August 2010 to August 2011. Japan, Germany, and France are the three countries most affected, with 130,000; 705,000; and 7,000 vehicles being recalled, respectively. Shares of Ford Motor (NYSE:F) jumped 1.6 percent on Wednesday.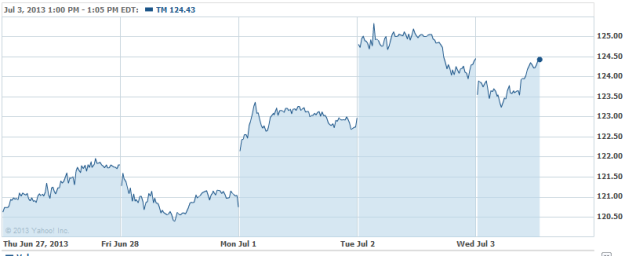 Zynga (NASDAQ:ZNGA) shares gained another 4.6 percent on Wednesday. Earlier this week, the online gaming company announced that CEO Mark Pincus will be stepping down and replaced by Don Mattrick, the head of Microsoft's (NASDAQ:MSFT) Xbox division. "Don is unique in the game business," said Mark Pincus. "He can execute in multiple domains — hardware, software, and network."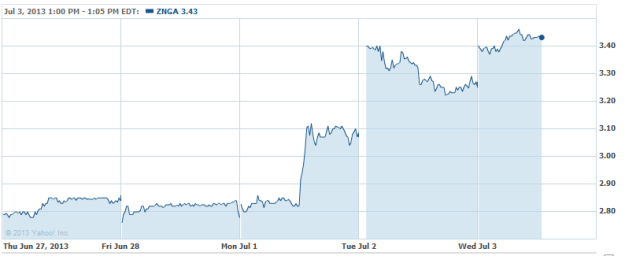 Shares of Apple (NASDAQ:AAPL) climbed 0.60 percent higher on Wednesday, and continued to attract attention in late afternoon hours. The tech giant hired Paul Deneve, the former CEO of French fashion retailer Yves Saint Laurent, reports Reuters. The recent rumors of an upcoming plastic iPhone launch have led some observers to wonder if Apple was making a strategic mistake by diluting its premium brand image in a misguided effort to broaden its market reach. However, the Cupertino-based company's latest hire should dispel any concerns about Apple abandoning its "elite" reputation. According to a statement from Apple, Deneve is joining the company as a vice president in charge of special projects. Although Apple did not elaborate on what special projects might involve, Deneve has previously held sales and marketing positions at Apple in Europe during the 1990s.

Don't Miss: Are Restaurants Signaling Better Days Ahead?
Follow Eric on Twitter (@Mr_Eric_WSCS)