Heavy Hitters: Carl Icahn Reveals New Position, Warren Buffett Made Bank on Financial Crisis
Shares of American International Group (NYSE:AIG) sank 1.6 percent on Monday. AIG's mortgage insurer, United Guaranty, whose number-one competitor is the Federal Housing Administration, is attempting to entice borrowers with the hope that they will avoid delays arising from the partial government shutdown. The division has sent a message to clients emphasizing its willingness to accept paperwork that had been prepared for the Federal Housing Administration. Spokesperson Jo Fleischer remarked in a Monday email that, "In light of the federal shutdown and the inability of FHA to do business as usual, United Guaranty is reminding our customers that we are a resource. We can underwrite any FHA submission with existing full documentation, and typically get our customer a decision within 24 hours."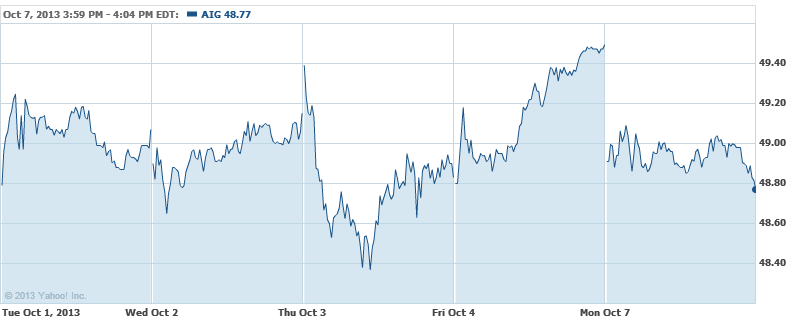 Berkshire Hathaway (NYSE:BRKA) (NYSE:BRKB) shares fell 0.75 percent on Monday, but still outperformed the broad market. It was revealed that Warren Buffett's strategy during the financial crisis to make loans earned Berkshire Hathaway about $10 billion in profit so far. "In terms of simple profitability, an average investor could have done just as well investing in the stock market if they bought during the panic period," Buffet said in an interview with The Wall Street Journal on Saturday. "You make your best buys when people are overwhelmingly fearful." One of the companies Berkshire Hathaway lent money to was Mars Inc., which in 2008 needed to finance its $23 billion purchase of Wm. Wrigley Jr. Co. Buffett loaned Mars $4.4 billion and purchased a minority interest in Wrigley for $2.1 billion at a discount of the buyout price.

Shares of Apple (NASDAQ:AAPL) increased 1 percent on Monday and continued to attract attention in late afternoon hours. Cantor Fitzgerald analyst Brian White recently heard several intriguing rumors about upcoming Apple products from various technology suppliers in Asia, Apple Insider reports. The analyst is currently visiting display component suppliers based in China and Taiwan. According to White's supply chain sources, Apple's next-generation iPad will be narrower, thinner, and lighter than the iPad 4. This rumor is in line with various leaked images of Apple's iPad 5 front panel and rear casing, as well as predictions from well-connected KGI Securities analyst Ming-Chi Kuo.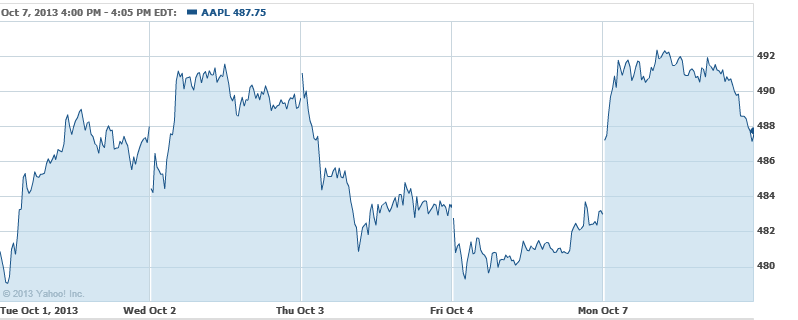 Talisman Energy (NYSE:TLM) shares surged more than 7 percent in late afternoon hours. Billionaire investor Carl Icahn disclosed a position of approximately 61 million shares in the oil and gas exploration company. In a tweet, Icahn also said he may have conversations with Talisman Energy's management team about board seats and strategic alternatives. Shares of Tilisman Energy are up only 12.5 percent year-to-date.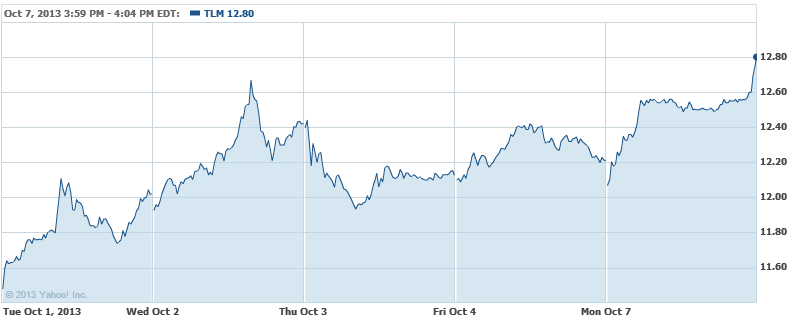 Don't Miss: Your Cheat Sheet to the Debt Ceiling Debacle
Follow Eric on Twitter @Mr_Eric_WSCS