Heavy Hitters: Cisco Drops 8%, Twitter Likes Apple's New Products
Shares of Cisco Systems (NASDAQ:CSCO) fell 8 percent in late afternoon hours. Cisco Systems announced better-than-expected quarterly earnings, but revenue of $12.09 billion disappointed Wall Street. Analysts expected revenue of $12.34 billion. On the positive, Cisco Systems also said it would increase its stock repurchase program by $15 billion. "This quarter we delivered record non-GAAP profitability and continued our steady stream of innovation and market leadership," stated Cisco Systems Chairman and CEO John Chambers. "While our revenue growth was below our expectation, our financials are strong, our strategy is strong and our innovation engine is executing extremely well." Cisco's guidance was also weaker than expected.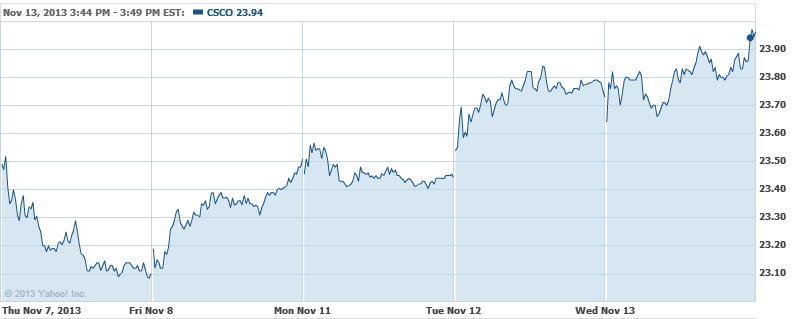 Apple (NASDAQ:AAPL) shares edged slightly higher on Wednesday and continued to attract attention in late afternoon trading. Piper Jaffray analyst Gene Munster recently examined the social media chatter about Apple's new products and found that there is a "growing positivity" for the iPad Air and iPad Mini with Retina display. Munster based his conclusion on a "sentiment analysis" of more than 1 million Tweets over the past three weeks. According to his analysis, "the Air & Mini Retina are possibly the most well-received recent devices from Apple." Munster noted that positive consumer sentiment for the iPad Air during the 10-day period between the announcement and launch of the device was already high at 81 percent. However, after the iPad Air was released, the "positivity" of consumer sentiment grew to 85 percent.

After increasing 2.7 percent on Wednesday, shares of NetApp (NASDAQ:NTAP) edged slightly higher in late afternoon trading. NetApp reported quarterly earnings of 66 cents per share on revenue of $1.55 billion. Analysts expected earnings of 62 cents on revenue of $1.6 billion. "NetApp is at the forefront of a changing IT landscape, creating opportunity from perceived threats," said Tom Georgens, president and NetApp CEO. "Though we face an ongoing uncertain macro environment, our solid branded revenue growth and share gains are evidence of the value customers place on our innovative, best-of-breed solutions."

Shares of General Motors (NYSE:GM) surged 4.9 percent on Wednesday. The U.S. Treasury disclosed that it sold $1.2 billion worth of General Motors stock in October, about a third of what the government indicated it owned in the company as of September 26. Separately, General Motors revealed that it will be relocating its international headquarters from Shanghai to Singapore to further help its management strategy. The automaker — which peeled GM China off its international operations this year –  will keep corporate offices and employees in China to run the division.

Don't Miss: 10 Charts Reveal America's Dismal Jobs Situation
Follow Eric on Twitter @Mr_Eric_WSCS