Heavy Hitters: Cisco Plunges 10%, Apple Nibbles at $500
Shares of J.C. Penney (NYSE:JCP) jumped 3.4 percent on Wednesday and continued to rise another 1 percent in late afternoon hours. The New York Post reports that same-store sales "recently swung into positive territory" for the struggling retailer. One industry insider also said, "The downward spiral appears to be ending."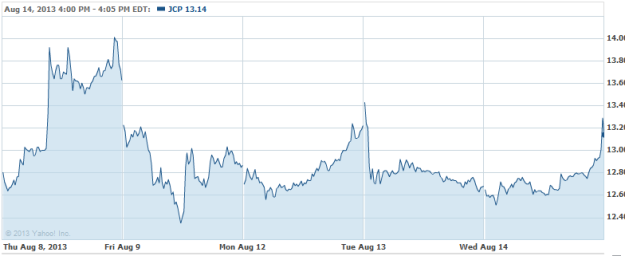 NetApp (NASDAQ:NTAP) shares dropped 4 percent in late afternoon hours. The company reported quarterly earnings of 53 cents per share on revenue of $1.52 billion. While it was a beat on the bottom line, analysts expected revenue of $1.53 billion.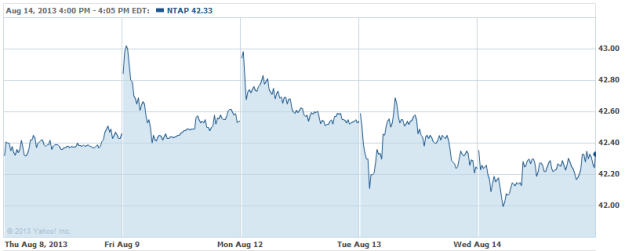 Apple (NASDAQ:AAPL) shares gained 1.8 percent on Wednesday and briefly broke above $500 for the first time since January. In fact, Apple is on its best three-day winning streak since 2010. Billionaire investor Carl Icahn recently announced via Twitter that his fund holds a "large position" in the world's largest publicly traded company. He believes Apple is "extremely undervalued," and had a "nice conversation" with chief executive officer Tim Cook about launching a larger buyback immediately. The activist investor did not disclose the amount of his investment, but the amount is believed to be around $1 billion.

Shares of Cisco Systems (NASDAQ:CSCO) plunged more than 10 percent in late afternoon trading. The company announced better-than-expected earnings for the fiscal fourth quarter, but its revenue outlook was weak. Furthermore, Cisco is cutting 4,000 jobs, or about 5 percent of the workforce. "Our financial strategy is working as our profits grew faster than revenue for the full fiscal year," stated Frank Calderoni, executive vice president and chief financial officer. "Our fourth quarter also delivered solid financial results as we continued to deliver profitable growth to maximize shareholder value for the long-term." Shares of Oracle (NASDAQ:ORCL) also fell in late afternoon trading.

Don't Miss: 5 Reasons Why Apple Investors Should Welcome the iCahn
Follow Eric on Twitter @Mr_Eric_WSCS