Heavy Hitters: Einhorn Still Long Apple, Pandora and Gap Fall After Earnings
Shares of Gap (NYSE:GPS) fell more than 2 percent in late afternoon hours, despite reporting better-than-expected quarterly results. Gap earned $337 million (72 cents per share) in the third quarter, up from $308 million (63 cents per share) a year earlier. On average, Wall Street expected Gap to earn 71 cents per share. "This quarter marks our seventh consecutive quarter of positive comp sales growth," said Glenn Murphy, chairman and chief executive officer of Gap. "We are pleased to maintain our momentum of growing sales and earnings per share this quarter."

Apple (NASDAQ:AAPL) shares jumped 1.2 percent on Thursday and continued to edge higher in late afternoon hours. A jury awarded Apple about $290 million in a retrial against Samsung, according to Reuters. Apple spokeswoman Kristin Huguet said, "It has been about innovation and the hard work that goes into inventing products that people love." Furthermore, Greenlight Capital's David Einhorn told CNBC that he is still long Apple and happy with the iPhone 5S.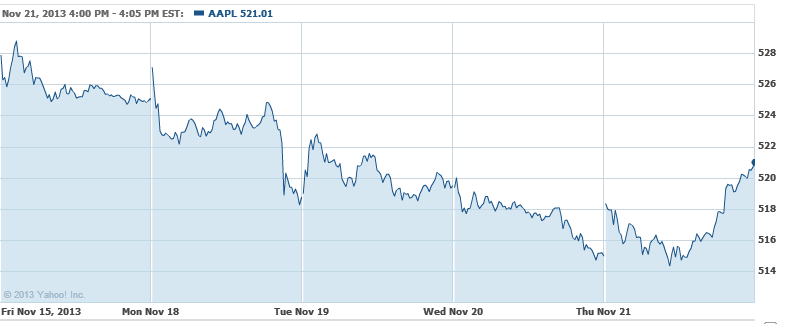 Shares of Pandora Media (NYSE:P) fell more than 3 percent in late afternoon hours. Pandora Media reported a quarterly loss of 1 cent, down from a 1 cent gain a year earlier. The company's outlook was also weaker than expected. However, Pandora Media earned 6 cents per share when excluding one-time items. "Pandora continues to monetize effectively across the board," stated Brian McAndrews, CEO, President & Chairman of Pandora. "Mobile advertising revenue surpassed the $100 million milestone during the quarter, which drove increased operating leverage. At the same time, Pandora continues to lead the market in mobile innovations, with a complete redesign for the iPad and the debut of the Android tablet app."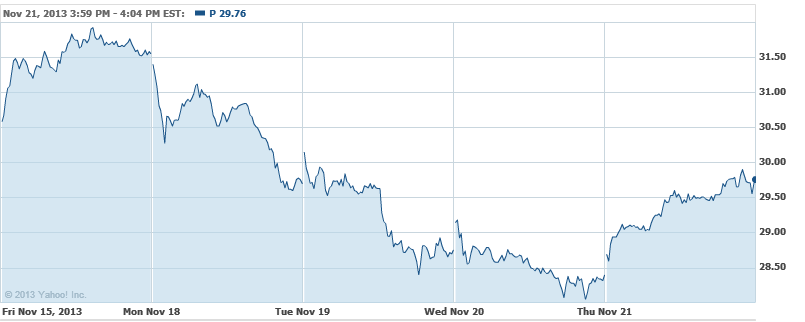 Green Mountain Coffee Roasters (NASDAQ:GMCR) shares surged 14 percent on Thursday. Late Wednesday, Green Mountain Coffee Roasters reported quarterly earnings of 83 cents per share, up from only 58 cents per share a year earlier. Net sales also grew to $1.05 billion. "We had a strong end to an excellent year, driven by continued consumer passion for the Keurig brewing system," said Brian P. Kelley, Green Mountain Coffee Roaster's President and CEO. "Our 16 percent annual revenue growth and 22 percent revenue growth for the fourth quarter were driven by robust brewer sales and continued portion pack sales momentum."
Don't Miss: Are Baby Boomers Becoming the Family Bank?
Follow Eric on Twitter @Mr_Eric_WSCS