Heavy Hitters: Exxon Mobil Receives Buffett Boost, Twitter and Apple Edge Lower
Shares of General Electric (NYSE:GE) closed nearly 1 percent higher on Friday and continued to edge higher in late afternoon hours. General Electric is shrinking its retail finance operations with the goal of eventually leaving the business behind. Up to 20 percent of General Electric's North American consumer lending business will be sold next year in an initial public offering. General Electric has been cutting back on GE Capital ever since the events of the 2008-2009 financial crisis. During that time, the credit markets froze, and the company found itself in a dangerous position. "GE isn't reducing finance because it has a new religious attachment to industrial. This is about reducing the potential for future pain," Brian Langenberg, director of research at Langenberg & Co, told Bloomberg.

Exxon Mobil (NYSE:XOM) shares jumped 2.2 percent on Friday. Berkshire Hathaway (NYSE:BRKA)(NYSE:BRKB) disclosed in its most recent 13-F filing that it picked up 40.1 million shares of Exxon Mobil, worth about $3.7 billion. Exxon Mobil has 4.37 billion shares outstanding, 52 percent of which are owned by institutional investors. Buffett's purchase makes him the eleventh-largest holder. The largest institutional owners of Exxon Mobil stock are Vanguard Group with 224.9 million shares and State Street with 184.4 million shares. The only investor to add a larger stake than Berkshire Hathaway in the third quarter was Fruth Investment Management.
Shares of Twitter (NYSE:TWTR) declined 1.6 percent on Friday. As a recent addition to the public market, Twitter's position is still being fleshed out. Earlier this week, the first shares available to borrow for short selling were made available at an annualized cost of about 20 percent. Costs have since declined to between 8 and 10 percent, and are likely to continue trending lower toward the sub-1 percent costs carried by companies like Facebook (NASDAQ:FB) and LinkedIn (NYSE:LNKD). Options trading went live on Friday without much trouble. More than 50,000 contracts were traded within two hours of opening, an accelerated but far from record-breaking level. Facebook famously broke options trading records with 365,000 trades the day options for the social network went live.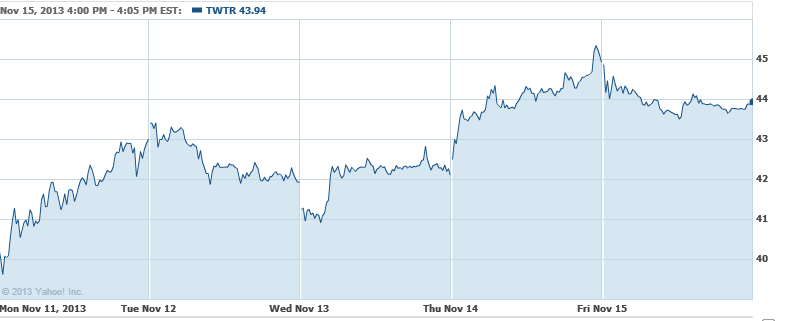 Apple (NASDAQ:AAPL) shares edged slightly lower on Friday. Samsung (SSNLF.PK) was able to put more distance between itself and Apple during the third quarter, as Gartner now projects that Samsung sold 80.36 million smartphones during the period against 55 million a year earlier and Apple's 30.33 million against 24.62 million a year earlier. Samsung's market share stayed flat at 32.1 percent, though Apple's fell to 12.1 percent from 14.3 percent, Gartner estimates.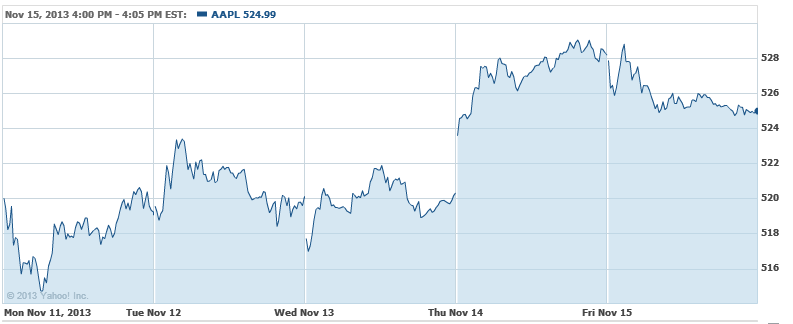 Don't Miss: Warren Buffett's 10 Favorite Stocks
Follow Eric on Twitter @Mr_Eric_WSCS