Heavy Hitters: First Solar Surges 8%, Facebook Dodges Market Selloff
First Solar (NASDAQ:FSLR) shares surged 8 percent in late afternoon trading. First Solar reported a third-quarter profit of $195 million ($1.94 per share), compared to $87.9 million ($1.27 per share) a year earlier. Revenue also jumped from $873 billion to $1.27 billion. "The third quarter marks a key milestone in our Company's progress in achieving the strategic objectives we outlined during our Analyst Day event in April," said Jim Hughes, First Solar CEO. "During the quarter we delivered on several key objectives, including additional bookings of 860MWdc, significant reductions to our module manufacturing cost, and strong financial performance. With these encouraging results achieved, we move forward, focusing on strengthening our leadership position in the marketplace and achieving our strategic objectives for future success." First Solar also raised its guidance on gross margins.
Shares of Apple (NASDAQ:AAPL) edged slightly lower on Thursday, along with the general market. However, Apple's new iPad Air is receiving positive reviews. Walter Mossberg at AllThingsD says that "if you can afford it, the new iPad Air is the tablet I recommend, hands down." While CNET compliments the Air's design makeover, its improved front camera, and the "ridiculously fast" performance of its A7 CPU, it wishes the tablet had an 802.11ac Wi-Fi radio and a fingerprint sensor. According to a new report from IDC, Apple is the world's top tablet vendor with 14.1 million iPads shipped in the third quarter. Shares of Apple are down about 2 percent for the year.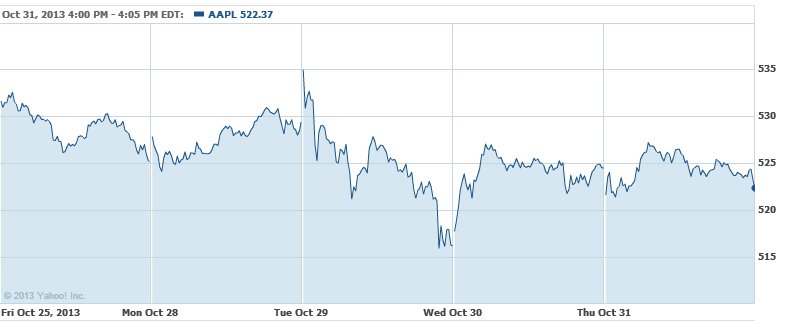 Facebook (NASDAQ:FB) managed to gain 2.4 percent on Thursday and continued to edge higher. Late Wednesday, Facebook reported quarterly earnings of 25 cents per share, easily beating estimates calling for 19 cents per share. Revenue jumped 60 percent to $2.02 billion, compared to $1.26 billion a year earlier. Facebook now has 1.19 billion monthly active users, up 18 percent from last year. "For nearly ten years, Facebook has been on a mission to connect the world," said Mark Zuckerberg, Facebook founder and CEO. "The strong results we achieved this quarter show that we're prepared for the next phase of our company, as we work to bring the next five billion people online and into the knowledge economy."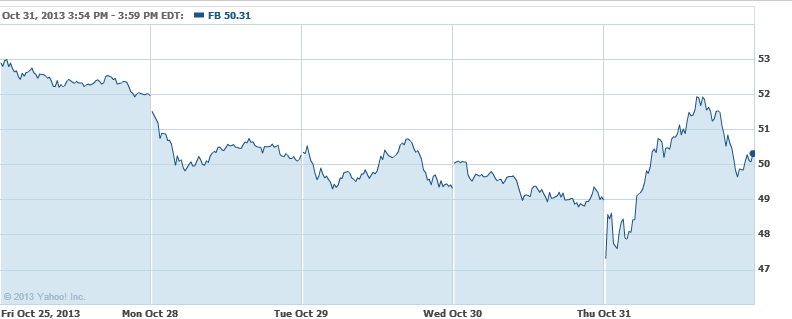 Shares of American International Group (NYSE:AIG) fell more than 2 percent in late afternoon hours. AIG reported quarterly earnings of 96 cents per share, compared to Wall Street's estimate of 94 cents per share. However, revenue was weaker-than-expected at $8.43 billion. "AIG's solid performance this quarter underscores the strong fundamentals of our businesses, and builds upon the momentum that we generated in the first half of this year," said Robert H. Benmosche, AIG CEO. "Our insurance operations reported improved pre-tax operating profits this quarter from the third quarter of 2012, and we continue to remain optimistic about the future."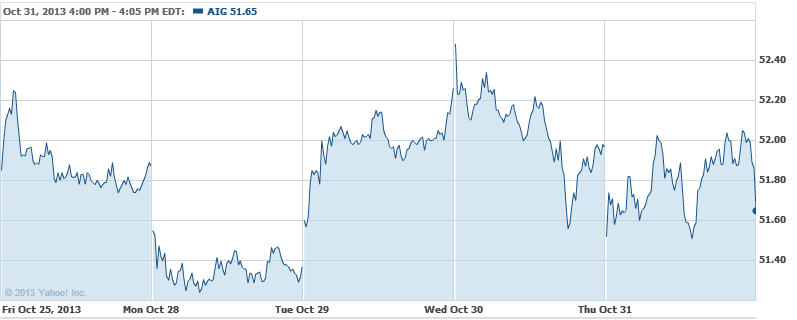 Don't Miss: Federal Reserve: Yes, the Housing Market Is Slowing Down
Follow Eric on Twitter @Mr_Eric_WSCS