Heavy Hitters: First Solar Surges Almost 8%, Apple Finds Support Near $400
Shares of Apollo Group (NASDAQ:APOL) plunged more than 6 percent in late afternoon hours. The for-profit education firm posted quarterly earnings of $1.05 per share, with revenue of $947 million. However, analysts expected revenue of $965 million. "This is a time of extraordinary change in higher education. At Apollo Group we are creating a more nimble organization and reengineering our learning solutions to better support our student's needs and meet the demands of employers. We are focused on making the necessary changes to deliver an improved set of educational offerings," said Apollo Group CEO Greg Cappelli.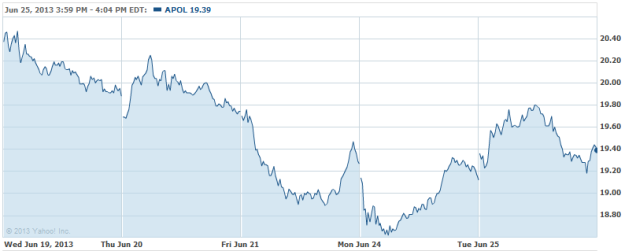 First Solar (NASDAQ:FSLR) shares surged 7.8 percent on Tuesday, and continued to edge higher in late afternoon trading. The company is set to benefit from President Barack Obama's proposal to reduce emissions from coal plants.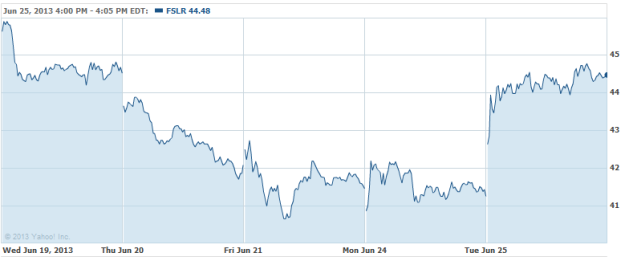 Shares of Sprint Nextel (NYSE:S) edged higher in late afternoon trading, after closing in the green. SoftBank's (SFTBY.PK) deal with Sprint Nextel finally received its official vote at Sprint's shareholder meeting on Tuesday. The deal achieved 98 percent approval from Sprint's shareholders who voted at the meeting and represents 80 percent of Sprint's outstanding stock. The final hurdle before Japanese SoftBank owns 78 percent of the U.S.'s third-largest wireless carrier is Federal Communications Committee approval.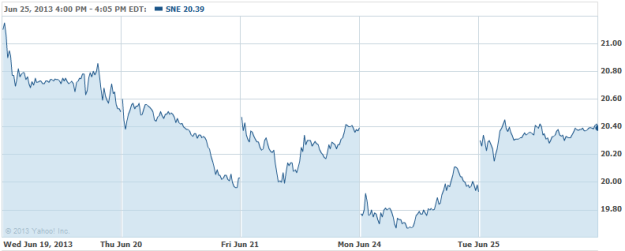 Apple (NASDAQ:AAPL) shares dipped to $398 on Tuesday, but rebounded to finish the day flat at $402.63. After recording a decline in Apple's iPad usage share in April 2013, the tech giant is back in the driver's seat, posting a Web usage share increase in May that marks its highest in five months, according to a report from Chitika Insights. Apple captured 82.4 percent of North American web traffic, easily beating rivals like Amazon (NASDAQ:AMZN) and Samsung (SSNLF.PK).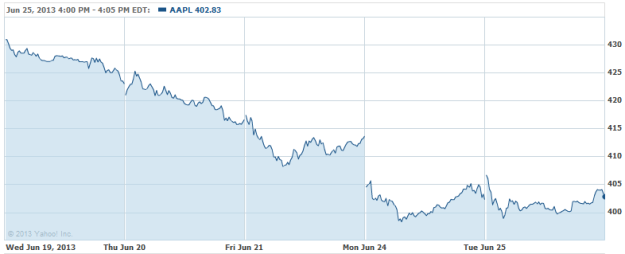 Don't Miss: The Housing Market Receives An Impressive Surprise
Follow Eric on Twitter (@Mr_Eric_WSCS)