Heavy Hitters: GM Drives 1.6% Higher, Apple Prepares an Army of New Products
Shares of eBay (NASDAQ:EBAY) gained 1.3 percent on Friday and continued to edge higher in late afternoon hours. The company has purchased Belgian classified-ad websites 2dehands.be and the French-language version 2ememain.be as the e-commerce giant continues to make international acquisitions a priority in an attempt keep up with competition from sites like Amazon.com (NASDAQ:AMZN) and Google (NASDAQ:GOOG). The sites are the two biggest for classified ads in Belgium and, although Belgium is far from the top e-commerce market in Europe, the acquisition shows that EBay believes it can continue to grow internationally.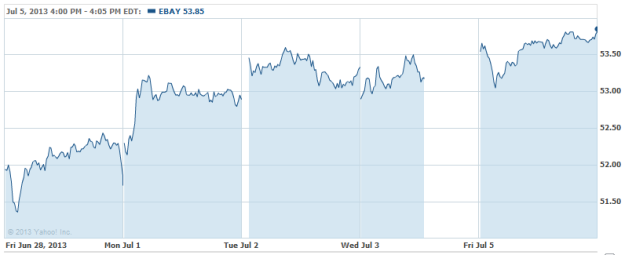 General Motors (NYSE:GM) shares increased 1.6 percent on Friday. The U.S. automaker may have found a weapon to use in the rapidly growing market. Strong sales of the Chevy Spin minivan have allowed GM to start considering Indonesia a new battleground, making Toyota (NYSE:TM) mobilize in an effort to maintain its stronghold in the region. GM recently reopened a plant in Indonesia and has been producing its stripped-down, "no-frills" Spin vehicles that appeal to the local population. As a result, GM sold nearly 1,300 Spins in June, a remarkable figure when compared to the company's 5,277 vehicles sold in Indonesia for all of 2012, Reuters reports. More than 73 percent of the 1,761 GM vehicles sold in Indonesia last month were the Chevy Spin minivan.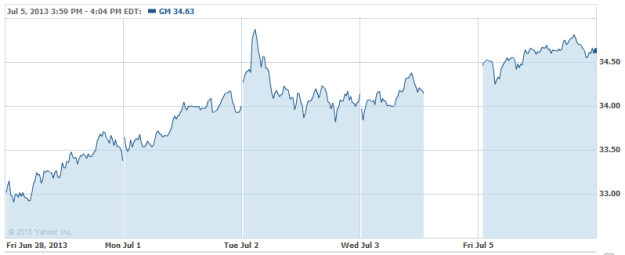 Shares of Apache (NYSE:APA) jumped 2.4 percent on Friday. Argus upgraded the company from Hold to Buy. The energy company has traded in a wide range over the past year, and received a similar upgrade last month from Deutsche Bank.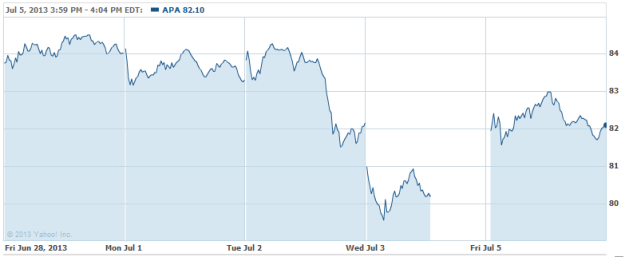 Apple (NASDAQ:AAPL) shares edged slightly higher in late afternoon trading, and logged its best week in months. According to 9to5Mac, one attendee at a recent retail summit said that Apple customers should expect an "army of new products this fall." A note to investors from JPMorgan Chase stated that the new products "will likely include the iPhone 5S, the fifth-generation iPad, a second-generation iPad mini and a budget version of the iPhone." Apple's new iOS 7 may also help drive more customers to upgrade to a new Apple device.

Don't Miss: Are Restaurants Signaling Better Days Ahead?
Follow Eric on Twitter (@Mr_Eric_WSCS)