Heavy Hitters: Google Breaks $1,000 Per Share, Apple and Tesla Climb Higher
Shares of Chipotle Mexican Grill (NYSE:CMG) surged 16 percent on Friday and continued to attract attention in late afternoon hours. Chipotle was also the best performer in the S&P 500 on Friday. Chipotle recently announced quarterly earnings of $2.66 per share, below estimates calling for $2.87 per share. However, revenue of $827 million was better than expected. "Our unique food culture continues to resonate with our customers. We are proud of the investments we have made over the years to source sustainably raised ingredients, which allows us to serve delicious food. By sourcing the best possible ingredients and cooking them according to classic cooking techniques we continue to demonstrate that just because food is served fast, it doesn't have to be a typical fast food experience," said Steve Ells, Founder, Chairman, and co-CEO of Chipotle. Shares of Chipotle are also trading at all-time highs.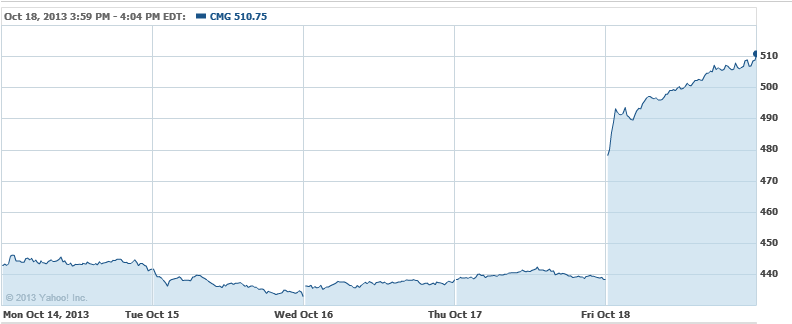 Google (NASDAQ:GOOG) shares surged nearly 14 percent on Friday and continued to edge higher in late afternoon trading. Google shares are now above $1,000 after going public at $85 per share in 2004. Late Thursday, Google reported quarterly earnings of $10.74 per share, easily beating Wall Street's estimate of $10.34 per share. Google's revenue totaled $14.89 billion, compared to estimates of $14.79 billion. "Google had another strong quarter with $14.9 billion in revenue and great product progress," said Larry Page, Google CEO. "We are closing in on our goal of a beautiful, simple, and intuitive experience regardless of your device." Google shares are now at all-time highs.

Shares of Apple (NASDAQ:AAPL) gained almost 1 percent on Friday. A recent study conducted by mobile security solutions company Good Technology revealed that Apple's iOS is outpacing Google's Android in the mobile enterprise market for both smartphones and tablets. According to Good Technology, app deployment among business users grew 42 percent quarter over quarter. Apple's iOS accounted for the lion's share of these app activations, with a 98 percent share in the second quarter and a 95 percent share in the third quarter. Apple also led in total activations by platform, with a 69 percent and 72 percent share in the second and third quarters, respectively.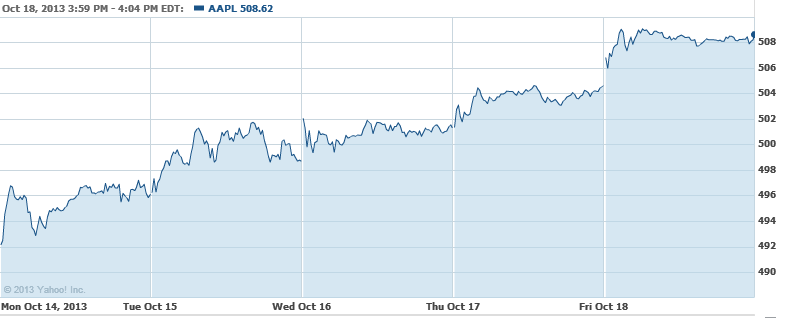 Tesla Motors (NASDAQ:TSLA) shares edged slightly higher on Friday. Tesla took the green-car credit sales crown this past year, according to a California Air Resources Board report. The state tally recorded that, from October 1, 2012, through September 30, Tesla transferred 1,311.52 zero-emission vehicle credits, allowing the company to pass the previous top sellers, Toyota Motor Corp. (NYSE:TM) and Suzuki Motor Corp. Toyota's Prius was the best-selling vehicle line in California through this year's first three months, but Tesla is soon hoping to surpass Toyota's totals as it gains momentum in the state; it hopes to sells 21,000 Model S sedans worldwide this year.

Don't Miss: Top 10 Real Estate Markets for Home Flippers
Follow Eric on Twitter @Mr_Eric_WSCS