Heavy Hitters: Hewlett-Packard Surges Higher, Apple Takes New iPhones Global
Shares of Ruby Tuesday (NYSE:RT) sank more than 12 percent in late afternoon hours. Ruby Tuesday reported a quarterly loss of 36 cents per share, far worse than expectations for a loss of 5 cents. Same-store sales also dropped 11.4 percent. JJ Buettgen, president and chief executive officer, commented, "The first quarter was challenging as the overall economy failed to realize any significant improvements which adversely affected us and the casual dining industry. We are disappointed that our first quarter same-restaurant sales came in below our expectations. However, we made progress during the quarter in our strategy to re-establish Ruby Tuesday as a fun, energetic, and broadly-appealing brand." Ruby Tuesday expects same-restaurant sales to be down high single digits in the current quarter.

Chevron Corp. (NYSE:CVX) shares fell 1 percent in late afternoon trading. Chevron Corp. warned that earnings for the third quarter are expected to be lower than in the second quarter. "Upstream results for the third quarter are projected to be slightly higher than the prior quarter while downstream earnings are expected to be significantly lower," Chevron Corp. explained in a statement. "Second quarter earnings included foreign exchange gains of approximately $300 million, compared to similarly sized losses anticipated for the third quarter."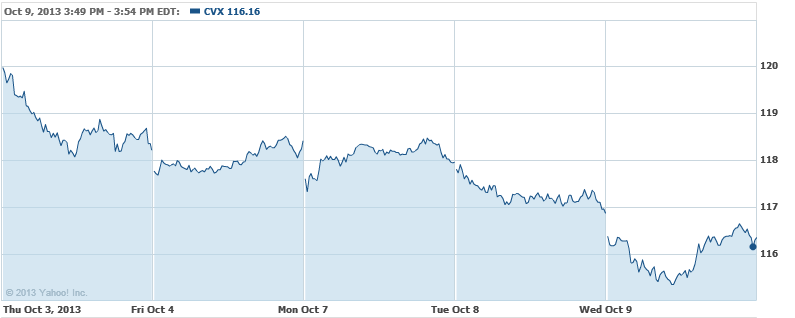 Shares of Hewlett-Packard (NYSE:HPQ) surged 9 percent on Wednesday and continued to edge higher in late afternoon hours. Chief Executive Officer Meg Whitman predicts that Hewlett-Packard's revenue will "stabilize" in fiscal year 2014 (ending October 2014) and start growing again in the 2015 fiscal year, as Hewlett-Packard is currently expected to see a 3.1 percent revenue drop for 2014 after a 7.7 percent decline in the 2013 fiscal year. Whitman also noted that Hewlett-Packard has managed to stabilized its enterprise services operations after the controversial Autonomy buyout, as the company's net debt is now below pre-Autonomy levels. No further restructuring is planned.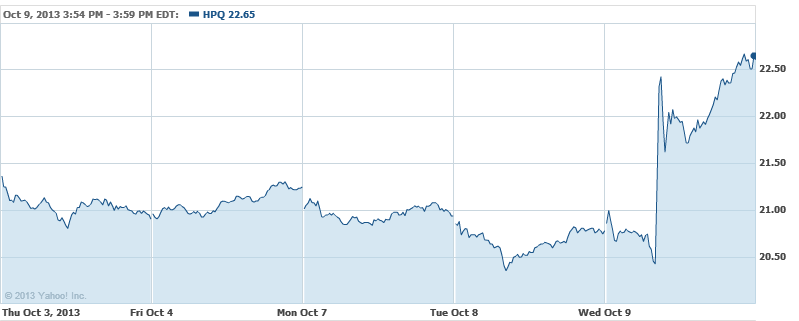 Apple (NASDAQ:AAPL) shares gained 1.2 percent on Wednesday. Apple announced that the new iPhone line-up will become available in 25 countries on October 25 and 12 more on November 1. Furthermore, in his latest research note, sent to Wall St. Cheat Sheet, Wells Fargo Securities analyst Maynard Um provided the bull case for Apple's gross margins from an accounting perspective. Noting that quarters in which the company launches a new "S" version of its iconic smartphone, accounting headwinds are eased and gross margins are driven higher. S models are typically fairly similar to the previous version of the iPhone, with slight modifications that do not require radical changes to components or assembly, so Apple's most recent iPhone refresh has fewer additional costs than an entirely redesigned smartphone.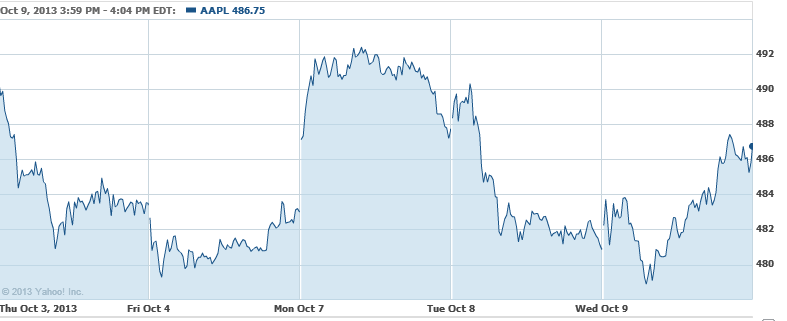 Don't Miss: Poll: Congress Less Favorable Than Dog Waste and Cockroaches
Follow Eric on Twitter @Mr_Eric_WSCS