Heavy Hitters: J.C. Penney CEO Buys $1M of Shares, Apple Buys 3-D Sensor Company
Shares of Nuance Communications (NASDAQ:NUAN) fell 5 percent in late afternoon hours. Nuance Communications reported quarterly earnings of 30 cents per share, topping estimates of 29 cents per share. Revenue was inline with estimates at $4.9 million. "We are pleased that we achieved fourth quarter results consistent with our guidance, and executed on our strategy to enter new growth markets, deliver a new generation of solutions and enable attractive, recurring revenue streams," said Paul Ricci, Nuance Chairman and CEO. However, Nuance Communications provided weaker-than-expected guidance for the current quarter.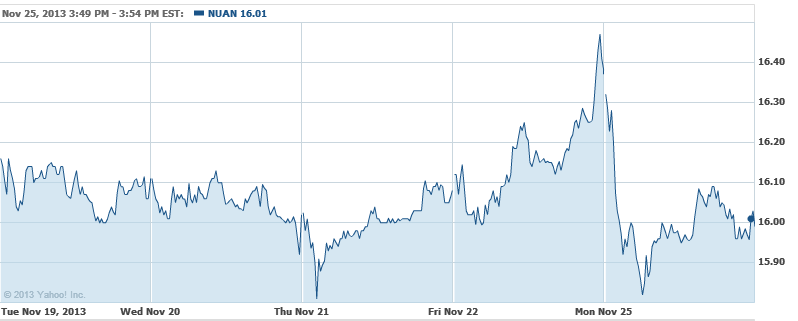 J.C. Penney (NYSE:JCP) shares gained nearly 3 percent in late afternoon trading. J.C. Penney's CEO Myrone Ullman disclosed the purchase of 112,000 shares at $8.95 on November 22, 2013, worth about $1 million. The news was a pleasant vote of confidence, especially since J.C. Penney just received notice that it will be dropped from the S&P 500 index later this week.

Shares of Apple (NASDAQ:AAPL) gained almost 1 percent on Monday. In a recent note to investors, Wells Fargo analyst Maynard Um examined the implications of Apple's (NASDAQ:AAPL) acquisition of 3-D sensor technology company PrimeSense. According to sources cited by AllThingsD, Apple purchased the Israel-based startup on Friday for about $360 million. Like many other industry watchers, Um believes that Apple will utilize PrimeSense's 3-D vision and gesture control technology for a television-related product. "PrimeSense develops 3D motion sensors technology utilized across entertainment, retail and robotics," Um wrote in a note obtained by Benzinga.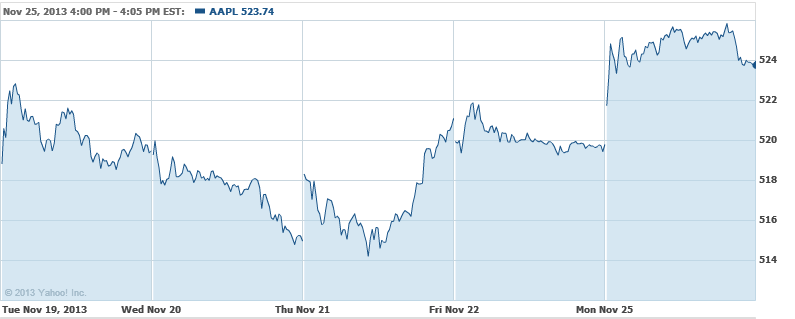 Qualcomm (NASDAQ:QCOM) shares fell 0.60 percent on Monday, but rebounded in late afternoon trading. Qualcomm revealed that regulators in China are investigating the chipmaker under the Chinese Anti-Monopoly Law, Reuters reports. In a statement seen by the news service, the company said that it was not aware of any violations of Chinese law, but that it would cooperate with investigators in the country. China's National Development and Reform Commission did not say why Qualcomm is being investigated. Qualcomm gets about half its revenue from China, and the company is looking to continue growing its share in the country as China works to improve its 4G LTE network. If the investigation reveals some sort of scandal in Qualcomm's Chinese operations, it would be very bad news for a company banking so heavily on the Chinese market.

Don't Miss: How Many Homes in the Country Are Still Underwater?
Follow Eric on Twitter @Mr_Eric_WSCS