Heavy Hitters: LinkedIn Drops 2%, Apple Set to Unveil New iPhone Next Week
Shares of Verizon Communications (NYSE:VZ) dropped almost 3 percent on Tuesday and continued to edge lower in late afternoon hours. The company made a deal to purchase Vodafone's (NASDAQ:VOD) 45 percent stake in Verizon Wireless for $130 billion. According to the companies' press release, the deal was unanimously approved by members of both boards, but it still has to be approved by regulators and shareholders. The companies said they expect the deal to close in the first quarter of 2014.

Microsoft (NASDAQ:MSFT) shares plunged 4.6 percent on Tuesday. Late on Monday evening, Microsoft announced that it will purchase substantially all of Nokia's (NYSE:NOK) Devices & Services business, license the company's patents, and license and use of its mapping services for about $7.2 billion. In addition, 32,000 Nokia employees will join Microsoft, as will Stephen Elop, the former senior Microsoft executive who became Nokia's Chief Executive Officer. This move will place him in position to be a potential successor to Steve Ballmer.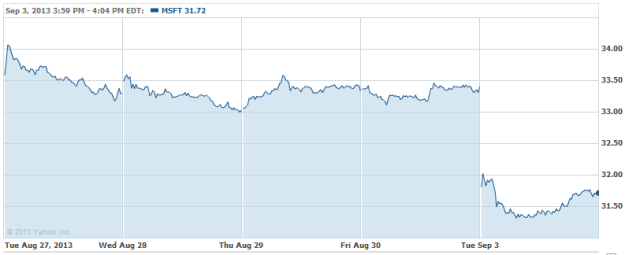 Shares of LinkedIn (NYSE:LNKD) fell more than 2 percent in late afternoon hours. The professional social-network company announced it will raise at least $1 billion in funds by issuing more stock. LinkedIn explains, "The principal purposes of the offering are to increase LinkedIn's financial flexibility and to further strengthen its balance sheet. LinkedIn intends to use the net proceeds of the offering primarily for general corporate purposes, including working capital, expansion of its product development and field sales organizations, international expansion, general administrative matters and for capital expenditures, including infrastructure."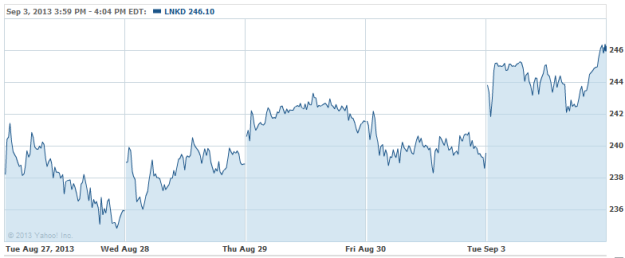 Apple (NASDAQ:AAPL) shares edged slightly higher on Tuesday and continued to attract attention in late afternoon hours. The tech giant set out to "brighten everyone's day" as the world's largest technology company sent out email invitations to its exclusive Sept. 10 event where the company is expected to finally reveal its iPhone models and new operating system. The day is one that consumers, investors, and analysts have highlighted in their calendars for months as the big reveal, and although a wave of leaks, rumors, and predictions have all proceeded the event, people everywhere are still waiting on the edge of their seats to hear the last word from Apple.

Don't Miss: 10 Brands That May Be Heeding Warren Buffett's Advice
Follow Eric on Twitter @Mr_Eric_WSCS