Heavy Hitters: Microsoft Dodges Market Pullback, Apple Dips Below $400 on iPhone Concerns
Shares of Sonic (NASDAQ:SONC) dropped more than 2 percent in late afternoon hours. The fast-food restaurant chain reported disappointing sales for its fiscal third quarter. Revenue came in at $147 million, below estimates calling for $148 million. "While challenging weather in March and April had a significant impact on our third quarter results, we were pleased to see our same-store sales return to positive in April and May," said Clifford Hudson, chairman, chief executive officer, and president.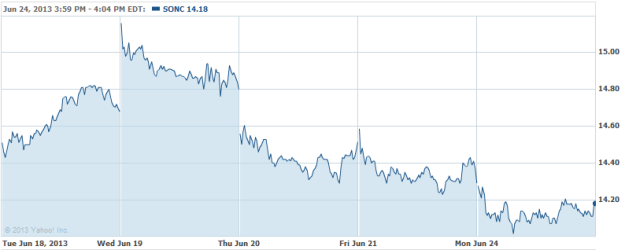 Facebook (NASDAQ:FB) shares fell 2.4 percent on Monday. An analyst at Searchmetrics is making a bold claim about social networking, saying that Google's (NASDAQ:GOOG) social networking site Google+ will outgrow Facebook by February of 2016. While acknowledging that Google+ is still miles behind Facebook, the research group claims that Google+ is growing much faster than Facebook is or ever did, and that growth could allow Google's competing social network to catch up to Facebook quickly. The firm sites Google's strategy of linking its products together, making it nearly impossible not to use all of Google's services if you use any of them, as the reason Google+ has grown so rapidly.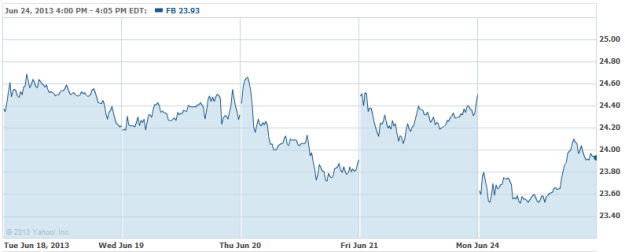 Shares of Microsoft (NASDAQ:MSFT) dodged the market pullback on Monday and continued to edge slightly higher in late afternoon hours. People familiar with the matter have said that Microsoft CEO Steve Ballmer has been devising a way to restructure the company and put a focus on being a "devices and services company." The rumored changes could come on July 1.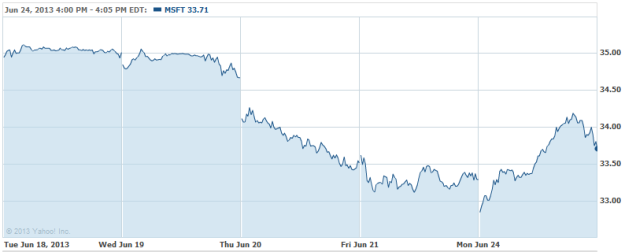 Apple (NASDAQ:AAPL) shares briefly dipped below $400 on Monday and continued to attract attention in late afternoon hours. Jefferies reduced its price target on the tech giant from $420 to $405. Analyst Peter Misek says Apple will build a maximum of 85 million iPhones in the second half of this year, down from his prior estimate for 110 million units. However, things could turn around in the fall with the release of several highly anticipated products.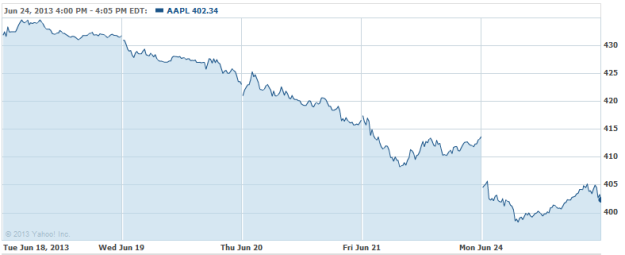 Don't Miss: Have Central Banks Finally Reached their Limits?
Follow Eric on Twitter (@Mr_Eric_WSCS)