Heavy Hitters: Netflix Jumps 6%, BlackBerry Climbs Higher on "Transformation" Hope
Netflix (NASDAQ:NFLX) shares surged more than 6 percent on Tuesday. CBS (NYSE:CBS) announced that it extended its multi-year streaming video deal with Netflix. The details are undisclosed, but popular shows such as CSI and Star Trek will be made available to Netflix subscribers.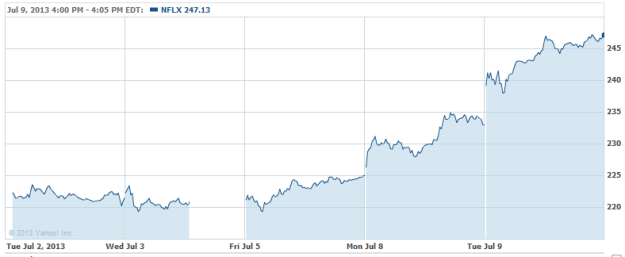 Shares of Intuitive Surgical (NASDAQ:ISRG) plunged 16.2 percent on Tuesday and continued to edge lower in late afternoon trading. The medical company recently announced that it expects second-quarter revenue to come in at $575 million, well below Wall Street expectations for $630 million. Gary Guthart, president and chief executive officer, explains, "While we are disappointed in our performance this quarter, particularly with respect to our capital sales in the U.S., overall procedure performance was solid in a difficult environment. We remain confident in the value that our products and services bring to patients, hospitals and the healthcare system."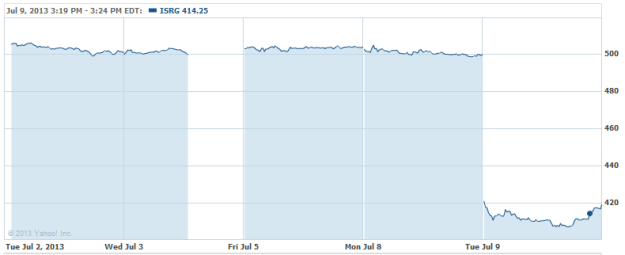 Google (NASDAQ:GOOG) shares edged slightly higher in late afternoon hours. Piper Jaffray believes that self-driving cars are one of the next game-changing mass technologies, and estimates it's a $200-billion opportunity for Google. The firm believes the company could begin to see revenue from self-driving cars by the end of this decade, and keeps an Overweight rating on the stock with a $935 price target. Shares of Apple (NASDAQ:AAPL) gained 1.8 percent on Tuesday.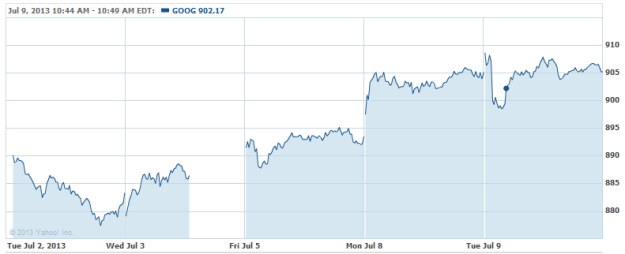 Shares of BlackBerry (NASDAQ:BBRY) gained nearly 1 percent on Tuesday and continued to edge slightly higher in late afternoon hours. During the annual shareholder meeting, BlackBerry CEO told investors that the company is still in the early days of a "transformation" and will "build and invest in the future."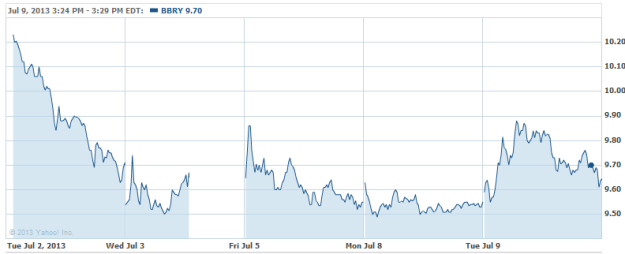 Don't Miss: What Do Americans Think About the Housing Recovery?
Follow Eric on Twitter (@Mr_Eric_WSCS)