Heavy Hitters: Priceline.com Nears $1,000, BlackBerry Surges on Takeover Speculation
Shares of J.C. Penney (NYSE:JCP) fell nearly 6 percent on Friday, despite The Buckingham Research Group saying that investor Bill Ackman's letter will motivate the retailer's board to accelerate its process to name a permanent chief executive officer. Shares of J.C. Penney are now at their lowest level in over a decade.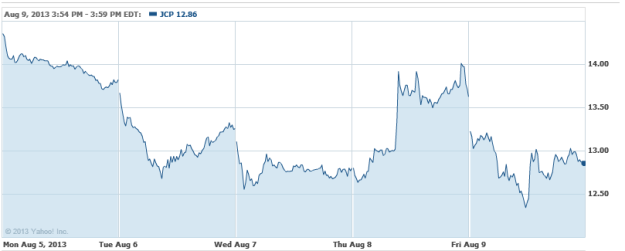 Priceline.com (NASDAQ:PCLN) shares gained almost 4 percent on Friday and continued to edge higher in late afternoon trading. The company recently reported better-than-expected quarterly results and is just shy of becoming the first name in the S&P 500 to cross $1,000 per share.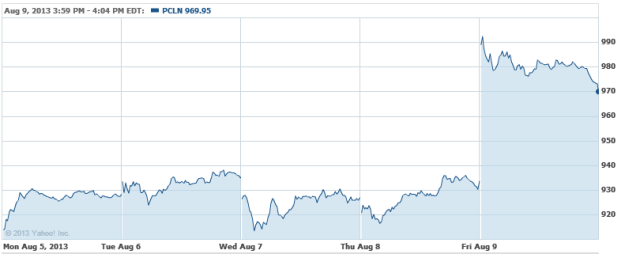 Shares of Apple (NASDAQ:AAPL) dipped 1.4 percent on Friday. The tech giant is rumored to be pulling together an engineering development team that will be based in Taipei, Taiwan, according to a report from VR-Zone's Sam Reynolds via Apple Insider. VR- Zone claims to have obtained internal Apple communications that describe this new development team. According to VR-Zone's alleged Apple documents, the team will be focused on developing new products as well as future generations of iPhones. Although the team will be based overseas, it will report directly to Apple's headquarters in Cupertino, California.

BlackBerry (NASDAQ:BBRY) shares jumped 5.7 percent on Friday and continued to attract attention in late afternoon hours. According to Reuters, the company is seriously considering the idea of going private so it can take its business problems from the public arena to a more private one.

Don't Miss: 5 Simple Steps to Repair Your Retirement Nest Egg
Follow Eric on Twitter @Mr_Eric_WSCS