Heavy Hitters: Tesla Drives 2% Higher, Apple Nears New iPhone Launch
Despite stocks logging their first four-day losing streak of the year, shares of Tesla Motors (NASDAQ:TSLA) drove 2 percent higher on Monday. A poll from Edmunds reveals that Tesla's clients who purchased the Model S sedan tend to be younger than the average luxury vehicle shopper, as nearly a third of buyers fall between 18 to 44 years of age, and the percentage of males opting for the Model S is higher than average.

Shares of Urban Outfitters (NASDAQ:URBN) surged more than 6 percent higher in late afternoon hours. The clothing retailer reported quarterly earnings of 51 cents, topping estimates calling for 48 cents per share. "I am pleased with the strong results we delivered this quarter," said Richard A. Hayne, chief executive officer. "They were driven by a favorable customer response to our product offerings, improved merchandise margins, the opening of additional stores, and better creative and marketing initiatives in our direct-to-consumer channel."

Facebook (NASDAQ:FB) shares gained 2 percent on Monday and continued to trade higher in late afternoon hours. Evercore Partners reiterated its Overweight rating on Facebook based on ad targeting improvements, attractive ad pricing, and growing user engagement. Additionally, Evercore lifted its price target  to $45 from $34. Janney Capital also initiated coverage with a Buy rating and a price target of $50.

Shares of Apple (NASDAQ:AAPL) increased 1 percent on Monday and continued to attract attention in late afternoon trading. Apple is reportedly on track to produce 5.2 million iPhone 5S units this quarter along with 8.4 million iPhone 5C units, AppleInsider is reporting. Notably, analyst Ming-Chi Kuo — noted for his accurate track record of predictions — says that the 5C, despite being a cheaper alternative, will not topple the 5S as the sales leader, as the iPad mini has outsold the full-size iPad. Kuo believes the iPhone 5C will replace the iPhone 5, while the iPhone 4S will live on as Apple's new low-end option. Shares of Google (NASDAQ:GOOG) also gained 1 percent on Monday.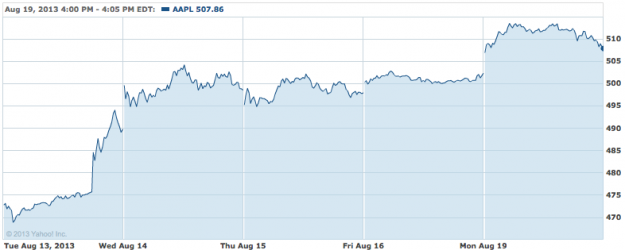 Don't Miss: Are Gold Bugs Becoming More Interested in Physical Gold?
Follow Eric on Twitter @Mr_Eric_WSCS