Heavy Hitters: Tesla Skids 15% on the Week, Apple and Groupon Climb Higher
Shares of Groupon (NASDAQ:GRPN) jumped 6.4 percent on Friday and continued to edge higher in late afternoon hours. Late Thursday, Groupon reported better-than-expected quarterly earnings of 2 cents per share. "Our Local business showed continued strength in the quarter, particularly in North America," said Eric Lefkofsky, Groupon CEO. "Mobile adoption continued to increase in Q3, reflected in our record 9 million app downloads. We're pleased with our progress, but we still have work to do as we transform the business from our daily deal email roots to a full e-commerce marketplace. We're also excited to announce today that we've signed an agreement to acquire Ticket Monster, one of the leading e-commerce companies in Korea."
Tesla Motors (NASDAQ:TSLA) shares closed 1.3 percent lower on Friday. Tesla Motors experienced a bumpy week to say the least after reporting not-impressive-enough quarterly results. News also hit headlines that another Model S caught fire after the driver hit a tow hitch lying in the road. The affected Model S was driven by 38-year-old Juris Shibayama and the driver was not injured, but the blaze still is expected to have serious effects on Tesla stock, especially since this is now the third fire the U.S. automaker has sustained in the past two months. Shares of Tesla fell 15 percent this week, but are still up over 300 percent for the year.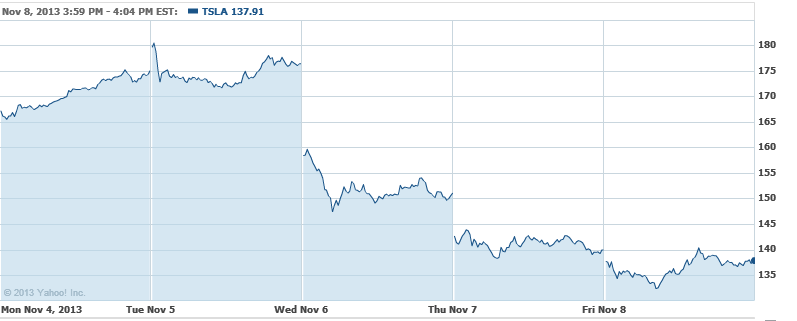 Shares of Apple (NASDAQ:AAPL) jumped 1.6 percent on Friday and continued to climb higher in late afternoon hours. Apple will soon begin offering in-store repairs for the iPhone 5S and the iPhone 5C, according to unnamed sources cited by 9to5Mac. Apple Store employees will be trained to replace screens, batteries, volume buttons, speakers, vibrator motors, and rear cameras on both new iPhones. Although iPhone 5C owners will soon be able to get their home buttons replaced in-store, retail store employees will still not be able to repair the Touch ID home button found on the iPhone 5S.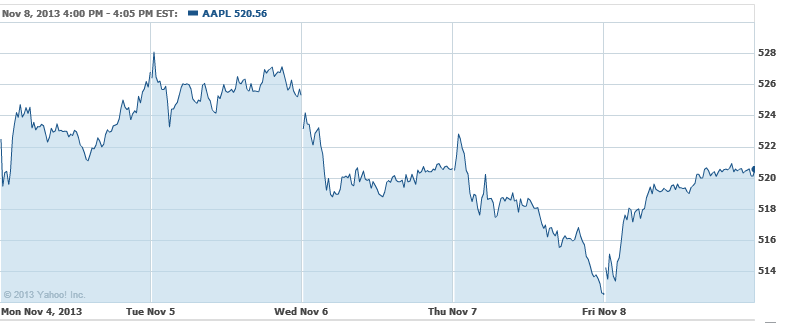 Walt Disney (NYSE:DIS) shares increased 2.1 percent on Friday. Late Thursday, Walt Disney reported quarterly earnings of 77 cents per share, up 12 percent from 68 cents per share a year earlier. Revenue also increased 7 percent to $11.57 billion from $10.78 billion last year. Walt Disney beat estimates on the top and bottom line."We're extremely pleased with our results for Fiscal 2013, delivering record revenue, net income and earnings per share for the third year in a row," said Robert A. Iger, Walt Disney CEO. "It was another great year for the Company, both creatively and financially, and we remain confident that we are well positioned to continue our strong performance and drive long-term shareholder value."

Don't Miss: Are Government Woes Sinking Consumer Sentiment?
Follow Eric on Twitter @Mr_Eric_WSCS