Heavy Hitters: Wal-Mart Goes Green, Apple Reaches New Deal in Japan
Wal-Mart (NYSE:WMT) attracted attention after announcing a "green" plan. The retailer is responding to health and environmental advocates' requests to eventually eliminate 10 potentially toxic chemicals from its stores' products. According to USA Today, Wal-Mart announced its decision Thursday, assuaging many health and environmental groups that expected an unwillingness to cooperate from the retailer. Since Wal-Mart maintains such a significant presence in the retail industry, advocates believe that the company's participation in the chemical-elimination effort will help pressure and encourage other retailers to follow suit.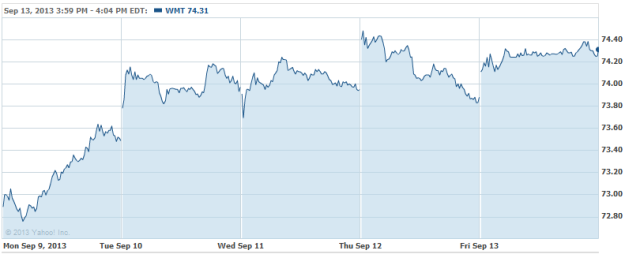 Shares of GSV Capital (NASDAQ:GSVC) surged almost 14 percent on Friday and continued to climb 1.6 percent higher in late afternoon trading. The firm is an early investor in Twitter, which is preparing to go public in the near future. Twitter announced late Thursday that it "confidentially submitted an S-1 to the SEC for a planned IPO." Goldman Sachs is the lead underwriter.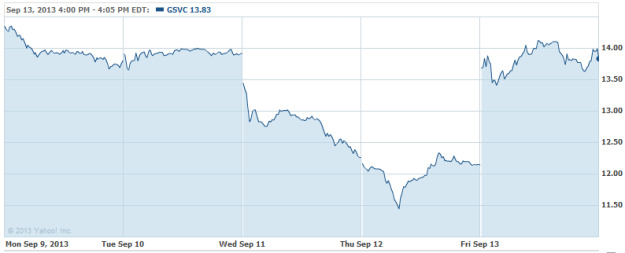 Microsoft (NASDAQ:MSFT) shares increased 1 percent on Friday and continued to edge higher in late afternoon hours. The company is running an iPad trade-in promotion for a limited time. Until October 27, Apple users can take their "gently used" iPads to select Microsoft retail stores and exchange them for a $200 gift card. Although the gift card is good for any product in Microsoft's store, the promotional offer notes that the Surface RT starts at $349 and the Surface Pro starts at $799. Microsoft has struggled to sell both its tablet models since the first one had its debut last year. Last month, Microsoft even dropped the price of its Surface Pro model by $100 in an effort jump-start sales.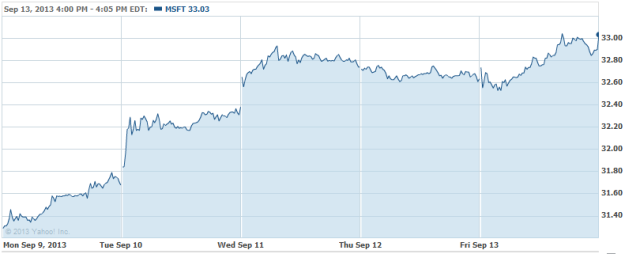 Shares of Apple (NASDAQ:AAPL) declined 1.7 percent on Friday, despite a new distribution deal in Japan. Although Apple recently announced that it had reached a distribution deal with NTT DoCoMo (NYSE:DCM), the Cupertino-based company did not reveal many details beyond the September 20 launch date. However, a recent report from Japan's Nikkei newspaper via Apple Insider claims that Apple's deal with DoCoMo requires that at least 40 percent of the carrier's overall handset sales consist of iPhones. If this is true, it would appear that both Apple and DoCoMo compromised on their original quota requests.

Don't Miss: Top 10 Career Fields to Boost Your Retirement Chances
Follow Eric on Twitter @Mr_Eric_WSCS