Shares of Zynga (NASDAQ:ZNGA) jumped more than 10 percent on Monday and continued to rise another 5.2 percent in late afternoon hours. The online gaming company announced that CEO Mark Pincus will be stepping down and replaced by Don Mattrick, the head of Microsoft's (NASDAQ:MSFT) Xbox division. "Don is unique in the game business," said Mark Pincus. "He can execute in multiple domains — hardware, software, and network."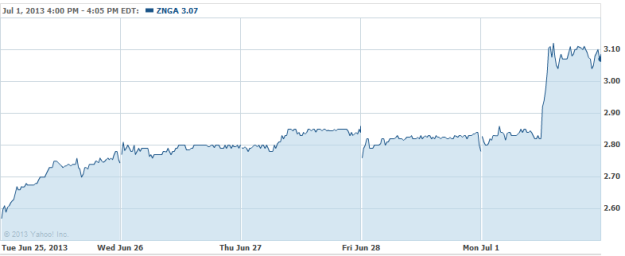 Nokia (NYSE:NOK) shares increased 3.2 percent on Monday and continued to attract attention in late afternoon trading. The company announced its decision to buy out Siemens AG (NYSE:SI), its partner in a joint venture, Nokia Siemens Networks, that sells telecommunications equipment to mobile phone carriers. Siemens currently holds a 50 percent stake in the venture, but will hand it over to Nokia during the third quarter for 1.7 billion euros, or $2.2 billion. Nokia also received an upgrade from JPMorgan Chase.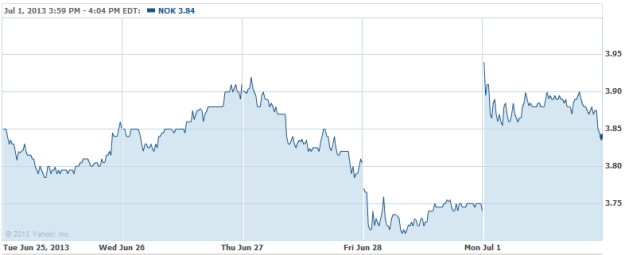 Shares of Pandora Media (NYSE:P) edged slightly higher in late trading, after rising 3 percent on Monday. Morgan Stanley upgraded shares of Pandora to Overweight from Equal Weight, as the analyst believes Pandora provides the best exposure to the secular shift of ad dollars towards online channels from terrestrial and views it as one of the top consumer content platforms on the Internet. The price target is $24.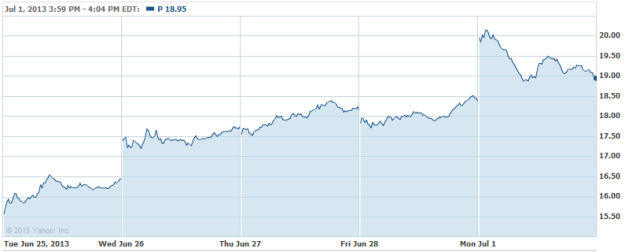 Apple (NASDAQ:AAPL) shares jumped 3.2 percent on Monday and continued to edge higher in late afternoon hours.The tech giant filed a request to trademark the term "iWatch" in Japan, meaning we could be even closer to seeing the product. Many of Apple's competitors are also looking to expand into wearable devices. Samsung (SSNLF.PK) has also been working on a wristwatch-type device, while Google (NASDAQ:GOOG) has already unveiled its Google Glass.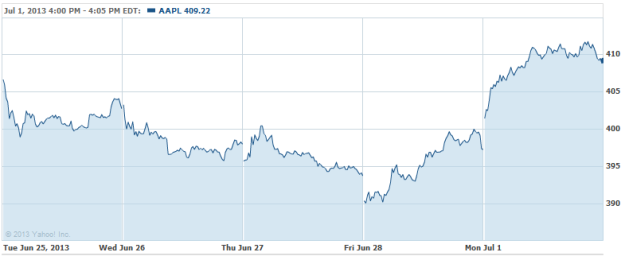 Don't Miss: Are Restaurants Signaling Better Days Ahead?
Follow Eric on Twitter (@Mr_Eric_WSCS)