Hedge Fund Baskets Are Full of Apple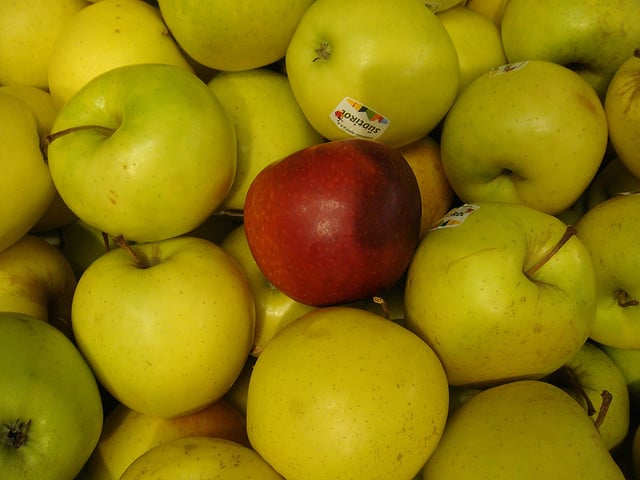 Is Apple (NASDAQ:AAPL) the must-have stock for hedge funds in 2013? Just like most people think of an apple when asked to think of a fruit, it turns out that most hedge fund managers think of Apple when filling their portfolios with technology stocks. The iPhone maker's is the most common stock to be held in hedge fund portfolios as of now, reports Barron's.
A total of 188 hedge funds own some amount of Apple stock, according to statistics provided by The Wall Street Journal. As of March 2013, the percentage of Apple's equity capital owned by hedge funds was at 2 percent, which is the same percentage owned by hedge funds in the previous quarter. Google (NASDAQ:GOOG) came in second with 184 hedge funds owning 5 percent of its equity capital. Insurance giant AIG (NYSE:AIG) held the third place in the number of hedge funds that owned its stock. However, AIG also had a much higher percentage of its equity capital owned by hedge funds at a whopping 17 percent.
Apple also ranked high on a list of stocks that most frequently appear among the largest ten holdings of hedge fund portfolios. Apple was ranked number three with 55 funds including the Cupertino-based company's stock in their top ten holdings. Apple's average portfolio weight was 7 percent in these hedge funds.
Google was ranked second, with 74 hedge funds keeping the Mountain View-based tech company in their top ten. AIG took the number one spot, with 79 hedge funds claiming the insurance company's stock for their top ten portfolio selections.
Here's how Apple, Google, and AIG have traded so far this week: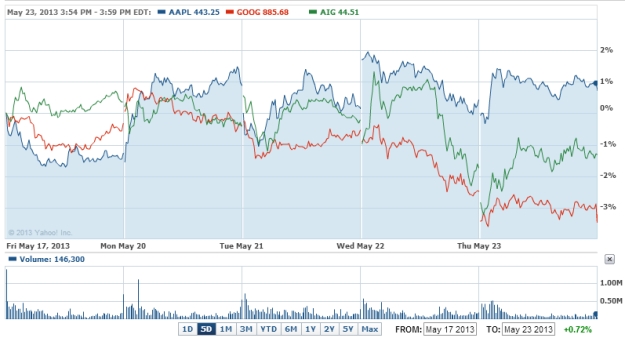 Follow Nathanael on Twitter (@ArnoldEtan_WSCS)
Don't Miss: Apple's Newest Patent Target: Galaxy S4.