Here Are Apple's TV-Related PrimeSense Patents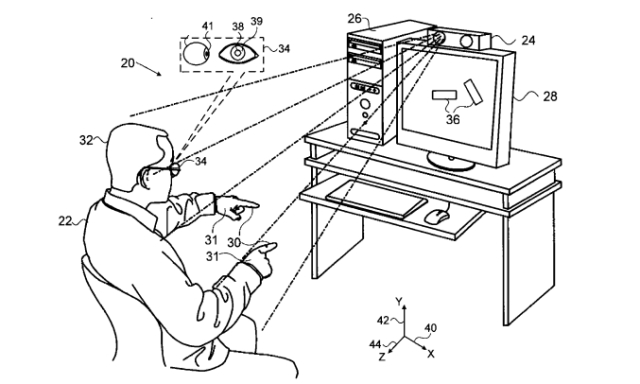 Last month, Apple (NASDAQ:AAPL) confirmed its acquisition of 3D vision and motion-sensing technology company PrimeSense after months of speculation. According to All Things D's insider sources, Apple paid approximately $360 million for the Israel-based company. Many Apple watchers believe that Apple is planning on implementing PrimeSense's 3D vision and motion-sensing technologies into a long-rumored television set.
PrimeSense is perhaps best known for its previous supplier relationship with Microsoft (NASDAQ:MSFT). PrimeSense supplied the 3D vision and gesture technology that powered Microsoft's Xbox 360 Kinect system. As explained on the PrimeSense's website, the technology "translates…observations into a synchronized image stream (depth and color) — just like humans do. It then takes those synchronized images and translates them into information." Patently Apple recently uncovered some of the other key PrimeSense technologies that Apple may soon be utilizing for a so-called "iTV" or other revolutionary new product.
As noted on its website, PrimeSense was already working with "leading consumer electronics and content brands" to develop "naturally interactive entertainment and remote control-free interfaces" that were integrated directly into televisions. Patently Apple found several PrimeSense patents that cover various technologies that Apple might use for a future television set, including a patent that allows users to control a television with their eyes and another patent that allows users to interact with a television by moving their hands in a defined "interaction region in space."
According to the abstract for a patent titled, "Gaze-Based Display Control," a computerized system is able to detect the direction of a user's gaze. "Based on the direction of the gaze, a region on a display coupled to the computerized system is identified," notes the patent. "An operation is [then] performed on content presented in the region." As noted by Patently Apple, this patent even specifically references the use of the technology "with a display in a television set."
Another patent titled, "Three-dimensional user interface," describes a user interface that is able to detect a user's "direction and speed of movement of the part of the body as the part of the body passes through the interaction surface." This technology allows users to precisely control a device with gestures made in an invisible defined interaction area.
Other PrimeSense patents cover technologies that could be used for augmented reality games that can allow "interactions between the virtual and real worlds." Still other patents cover face recognition technologies that could be used to create an Apple television that automatically changes its settings based on the presence of different users.
Although Apple has declined to reveal whether or not it is currently developing a television set, the acquisition of PrimeSense appears to have given the California-based company exclusive access to many different types of next-generation television technologies.  Here's how Apple traded on Friday.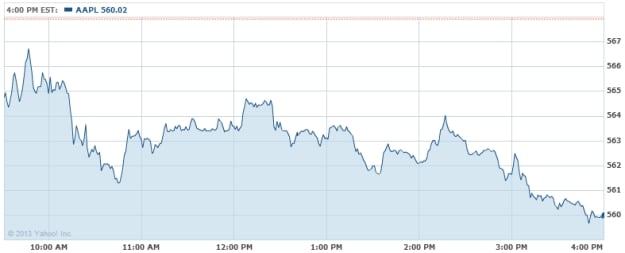 Follow Nathanael on Twitter (@ArnoldEtan_WSCS)
Don't Miss: Apple Stores Get Interactive With iBeacon System.