Here Are Apple's Upcoming Dividend Details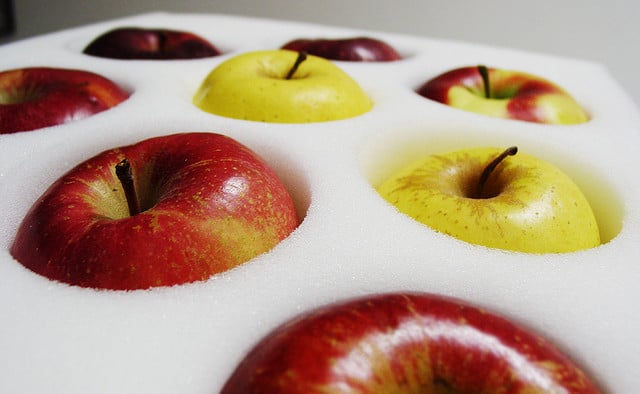 Apple (NASDAQ:AAPL) announced in its fiscal 2013 third quarter results that a cash dividend of "$3.05 per share of the Company's common stock" would be paid to "shareholders of record" on August 15. However, Daniel Eran Dilger at Apple Insider notes that investors must have purchased their Apple stock before the market closed yesterday if they were hoping to collect this quarterly dividend.
This cutoff date is due to the "ex-dividend" formula, which Fortune's Philip Elmer-DeWitt explained earlier this year. Essentially, the dividend is paid to whoever owned the stock several days before the actually dividend is paid out. Dilger notes that a stock sale takes three days to fully process, hence the cutoff date for qualifying for the previous quarter's dividend payout.
Apple authorized a significant expansion to its capital return program on the same day it announced its second quarter results in April of this year. Part of this capital return program included $60 billion for share repurchases that will extend through 2015. Apple also raised the quarterly dividend that it pays by 15 percent, from $2.65 to the current $3.05 level.
Last quarter, Apple spent $16 billion repurchasing its own shares according to analyst Horace Dediu at Asymco. Many analysts have noted that Apple spent more on its massive share repurchase program than what is typically spent on acquiring entire companies. For example, Finnish smartphone maker Nokia (NYSE:NOK) has a total value of $15 billion. Dediu calculates that Apple paid an average price of $488.25 for each share.
Dilger notes that Apple's share buybacks have reduced its market capitalization. However, Apple's "retired" stock also raises its EPS and should boost its stock price since there are now fewer total shares available on the market. According to NASDAQ, Apple's dividend yield is 2.62 percent based on the August 7 stock price of $465.25. This stock price is 20.81 percent higher than Apple's 52 week low of $385.10, but is 34.01 percent lower than the $705.07 high Apple hit in September of last year.
Here's how Apple has traded so far this week.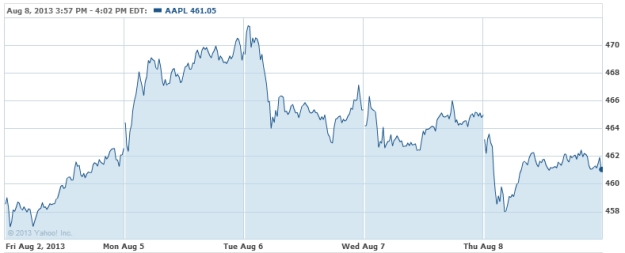 Follow Nathanael on Twitter (@ArnoldEtan_WSCS)
Don't Miss: Why Does T-Mobile Love Apple?