Here Are the U.S. Cities With the Most New iPhones
After Apple (NASDAQ:AAPL) revealed that it sold a record-breaking 9 million new iPhone 5S and iPhone 5C models over the opening weekend, many analysts tried to estimate how many of each iPhone model was sold. Although the data is still in flux, mobile app analytics firm Localytics provided many industry watchers with an early glimpse at the adoption rates for each of the new iPhone models in markets across the world.
As reported earlier, Localytics found that Apple's iPhone 5S was 3.4 times more popular than the iPhone 5C approximately 48 hours after both devices became available in the U.S. However, by Thursday the iPhone 5S was only 2.9 times more popular than the iPhone 5C.
More recently, Localytics used the data it gleaned from over 20 million unique iPhones to examine the popularity of each iPhone model in major cities across the U.S. Not surprisingly, the population sizes of each city corresponded closely to the number of new iPhone model activations. New York and Los Angeles held the top two spots for the overall number of new iPhone activations.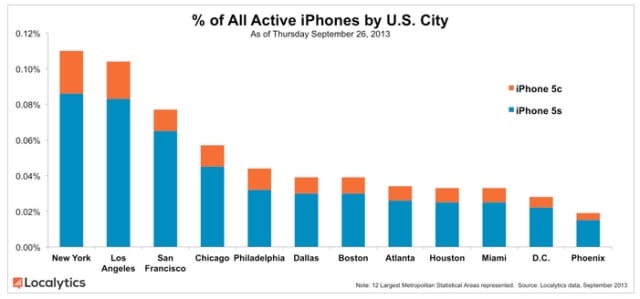 However, San Francisco — the eleventh largest market in the U.S. — was ranked third in the number of overall iPhone activations. The tech-savvy City by the Bay was also the top-ranked U.S. city in preference for the iPhone 5S model. Approximately 85 percent of the new iPhone activations in San Francisco came from the iPhone 5S. In contrast, the U.S. average for the iPhone 5S was 75 percent.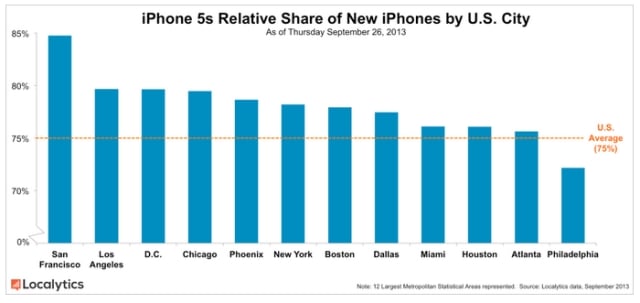 Philadelphia — which held the fifth-ranked position for overall new iPhone activations — was the city that least preferred the iPhone 5S. According to Localytics data, the City of Brotherly Love adopted the iPhone 5S at a rate that was three percentage points below the national average.
Although it is still unclear how the weekend iPhone sales broke down by model, KGI Securities analyst Ming-Chi Kuo recently claimed that Apple likely sold around the same amount of each new iPhone model.
Here's how Apple traded on Monday:

Don't Miss: Sorry iWatch Fans, Apple's New Hire Is Not a Wearable Tech Expert.
Follow Nathanael on Twitter (@ArnoldEtan_WSCS)