Here Is Apple's Antitrust Punishment

Apple's (NASDAQ:AAPL) long-running battle with the U.S. Department of Justice over its proposed antitrust remedies is finally over now that Judge Denise Cote has issued an injunction against Apple, reports Gigaom. However, the stipulations outlined in the injunction will continue to affect Apple's e-book business for years to come.
The final injunction is seen as victory for the Department of Justice since the judge kept many of the government's original requests. For example, Apple is not allowed to enter into "any agreement with an E-Book Publisher relating to the sale of E-books that contains a Retail Price MFN [most favored nation]."
Apple unsuccessfully argued that this restriction should only apply to the five publishers that were found liable in Apple's e-book price-fixing conspiracy. The government contends that Apple colluded with five other publishers in adopting agency model contracts with MFN clauses that eventually forced Amazon (NASDAQ:AMZN) to also adopt the same model and raise its e-book prices.In order to prevent future collusion among Apple and the various publishers, the injunction also imposes a staggered contract renegotiation schedule with the five settling publishers. The contract renegotiation schedule has time periods ranging from 24 months for Hachette to 48 months for Macmillan. The judge refused to allow Apple to set the order for the contract renegotiation schedule and instead gave the longest waiting periods to the publishers that took the longest to settle with the government.
Although Cote seemed to indicate at earlier hearings that an external antitrust compliance monitor may not be necessary, she eventually came down on the same side as the government on this issue. The injunction requires Apple to be monitored by an external compliance monitor for a period of two years.
On the other hand, the judge didn't force Apple to alter its App Store in-app purchasing policies. In order to ensure that consumers would be able to easily compare Apple's e-book prices to its competitors, the Department of Justice originally requested that other e-book sellers be allowed to provide links from their e-book apps that would connect directly to their own e-bookstores for a period of two years. Luckily for Apple, the judge denied this request.
The Department of Justice also cut the length of its original proposed injunction from 10 years to five years. However, the court still retains the option to extend the injunction with one-year increments if it feels that the circumstances require it.
Although the injunction will impede Apple's ability to negotiate favorable contracts with publishers for years to come, it remains to be seen what impact this case will have on its iBookStore profits in the long run. Here's how Apple has traded so far this week.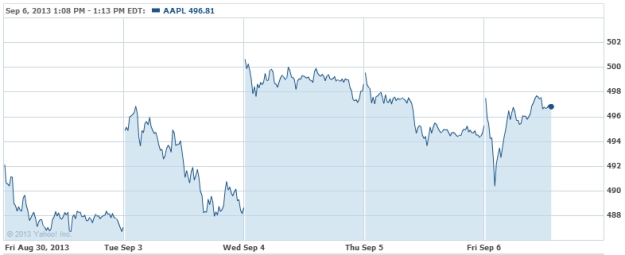 Follow Nathanael on Twitter @ArnoldEtan_WSCS
Don't Miss: Did Underpaid Workers Help Make Apple's New iPhone?