Here Is Apple's True Valuation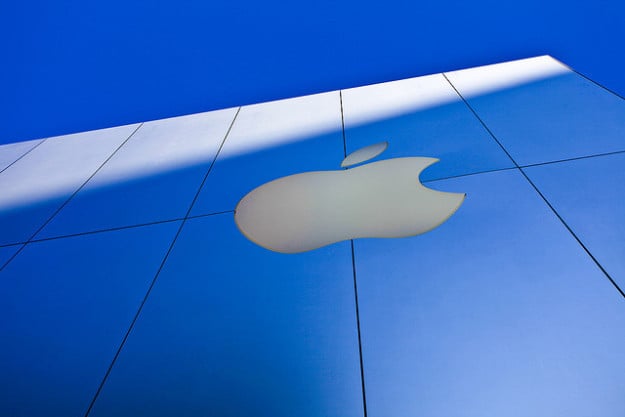 Is Apple's (NASDAQ:AAPL) current valuation the result of irrational market forces? Apple Insider's Daniel Eran Dilger recently took a close look at the history of Apple's valuation over the past five years in order to determine the causes behind the successful tech company's wildly varying share price.
Apple's market capitalization recently crossed the $500 billion threshold when the share price set a new high for the year at $556.07 on Friday. The previous high for 2013 was set on January 2 when the stock hit $549.03.
However, despite the recent share price boost, Dilger noted that Apple's current valuation is approximately the same as it was in the spring of 2012. At that time, several prominent analysts had set $1,000-plus price targets on Apple's shares, including Gene Munster of Piper Jaffray and Brian White of Topeka Capital Markets (now with Cantor Fitzgerald). Dilger noted that if Apple's share price had reached the predicted $1,000 level by the end of 2012, the company would have had a valuation of around $1 trillion.
However, after hitting a $700-plus peak in September 2012, Apple plummeted below $400 in April of this year. As noted by Dilger, this cleared the way for Apple's $60 billion expansion to its share buyback program. Since then, Apple's share price has risen over 36 percent. Although some observers believe that the $1,000-plus price targets set on Apple's shares in the spring of 2012 were excessively optimistic, Dilger cites two major reasons why he believes that a $1,000 share price would more accurately reflect Apple's true valuation today.
First, Dilger noted that Apple's stock has a unique history of being particularly susceptible to irrational market forces. As an example, Dilger pointed to the dramatic price swings that Apple experienced in 2008. Despite being the year immediately following the release of the highly successful first-generation iPhone, Apple's stock went from highs near $200 in January to lows near $80 in November. Dilger noted that similarly irrational forces are driving Apple's ups and downs this year.
Second, Dilger argued that the irrational trading behavior surrounding Apple becomes even more apparent when you compare the Cupertino-based company to Google (NASDAQ:GOOG). Like Apple, Google was also trading above $700 in September of 2012. Since then, Google has followed the trajectory that Munster and White had predicted for Apple and crossed the $1,000 per share price threshold.
However, despite Google's recent climb, Dilger pointed out that Apple has actually performed almost twice as well as Google over the past five years. Not only has Apple performed better over the long term, it has also recently decreased its total share count through its share repurchase program. On the other hand, Google has actually increased its number of shares by 5.5 million since last September. Dilger also noted that, unlike Google, Apple pays its shareholders a dividend.
Based on these reasons, Dilger concluded that Apple is currently being undervalued like it was in 2008 and that its share price today should actually be close to the $1,000 level that was accurately predicted by several analysts in the spring of 2012. Here's how Apple and Google have traded over the past five sessions.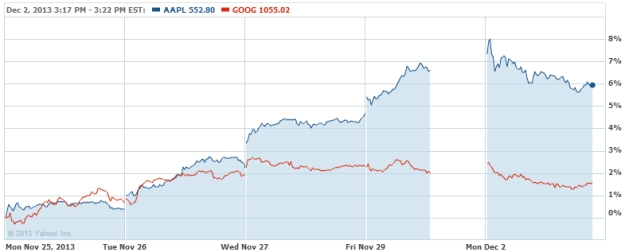 Follow Nathanael on Twitter (@ArnoldEtan_WSCS)
Don't Miss: Munster: Apple Products Are Hot This Season.