Here Is How Samsung Outscored Apple in Tablet Customer Satisfaction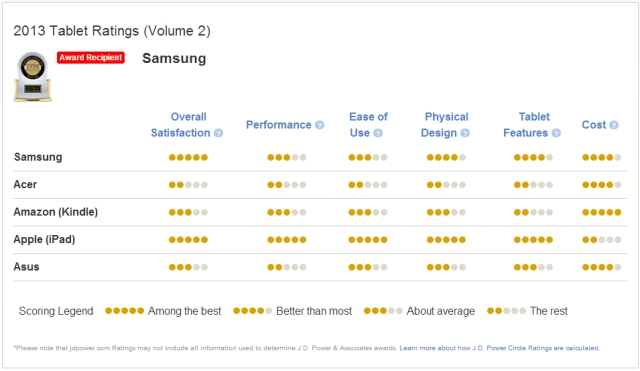 Samsung (SSNLF.PK) was able to edge out Apple (NASDAQ:AAPL) for the top rank in J.D. Power and Associates' latest study of consumer satisfaction in the tablet market, thanks to the Korea-based company's lower prices. Despite Apple's "among the best" scores in four out of five factors, Samsung secured the No. 1 position due to its "better than most" cost rating.
According to J.D. Power's website, the marketing information company measured consumer satisfaction with five ranking categories, which are listed in order of decreasing importance: Performance (26 percent); Ease of Operation (22 percent); Styling & Design (19 percent); Features (17 percent); and Cost (16 percent). As seen in the graphic above, Apple scored "among the best" in every category except for Cost.
On the other hand, Samsung scored lower than the iPad maker in every category except Cost. Samsung's tablets received an "about average" rating for Performance and Ease of Use, and a "better than most" rating for Physical Design and Tablet Features.
On a 1,000 point scale of satisfaction, Apple was given a score of 833, while Samsung received a score of 835. According to J.D. Power, Samsung "is the only manufacturer to improve across all five factors since the previous reporting period in April 2013." J.D. Power's April edition of its Tablet satisfaction Study gave top-ranked Apple a score of 836 while Samsung was ranked third with a score of 822.
Amazon (NASDAQ:AMZN), the manufacturer of the Kindle Fire tablet, was ranked third this year with a total score of 826. Asus maintained its fourth-place ranking with an overall average score of 821. J.D. Power's most recent study was fielded between March and August 2013. The scores are based on the experiences of 3,375 tablet owners who have owned their devices for less than a year.
Although Samsung managed to edge out Apple in J.D. Power's consumer satisfaction study, the iPad maker continues to outsell its rival. Recently released data from market research firm IDC revealed that the Cupertino-based company outsold Samsung by 4.4 million tablets last quarter, despite not launching a new tablet in almost a year.
Follow Nathanael on Twitter (@ArnoldEtan_WSCS)
Don't Miss: Apple's Domination of the Education Tablet Market Is Here to Stay.