Here's Apple's Latest Mac Pro Debut Sign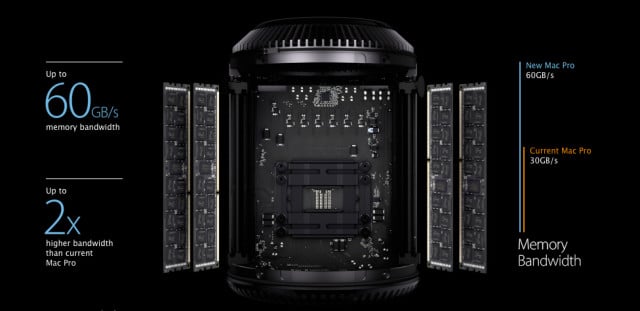 Apple's (NASDAQ:AAPL) long-awaited redesigned Mac Pro may soon become available. As first noted by IDG News Service's Agam Shah, Apple recently began offering a high-resolution monitor made by Sharp through its Online Apple Store websites for the U.K. and other European countries. However, the monitor has yet to appear on the Online Apple Store for the U.S.
Several industry watchers believe that the newly available display is a sign that the launch of the latest Mac Pro is imminent. According to Apple's website, the new Mac Pro is capable of powering "up to three high-resolution 4K displays." However, Apple's own Thunderbolt Display only has a 2,560 x 1,440 pixel display, which is lower than the 4K resolution that the new Mac Pro is capable of supporting.
According to Sharp's website, the 32-inch PN-K321 monitor features a 4K ultra high-definition LED display with a "1.07 Billion Color Palette." The 3,840 x 2,160 pixel display is made possible by Sharp's IGZO (indium gallium zinc oxide) technology, which allows the monitor to output a resolution that is four times higher than the resolution of a 1080p full HD display. The monitor sells for €3,999, or approximately $5,476, through Apple's European online stores.
Apple first unveiled its radically redesigned Mac Pro at the Worldwide Developers Conference earlier this year. The redesigned computer now features a sleek cylindrical design instead of the classic "cheese grater" design of the previous generation Mac Pro. According to Apple, the new design is based around a "unified thermal core" that allows the Mac Pro to more efficiently conduct heat away from the CPUs and GPUs.
The new Mac Pro also features significantly more computing power than the previous generation. According to Apple, the upgraded computer will be capable of up to "7 teraflops of computing power." The new Mac Pro features an Intel (NASDAQ:INTC) Xeon E5 processor with up to 12 cores and two AMD FirePro GPUs. It also includes PCI Express flash storage that is supposedly "2.4x faster than SATA solid-state drive." The quad-core version will start at $2,999 and the six-core version will start at $3,999.
A Mac Pro teaser that ran in several movie theaters earlier this year suggested that the computer would become available in the fall. However, Apple's website currently features a banner that reads "Coming in December." The recent addition of Sharp's 4K monitor to some of Apple's Online Stores suggests that the debut will happen sooner, rather than later. Here's how Apple traded on Friday.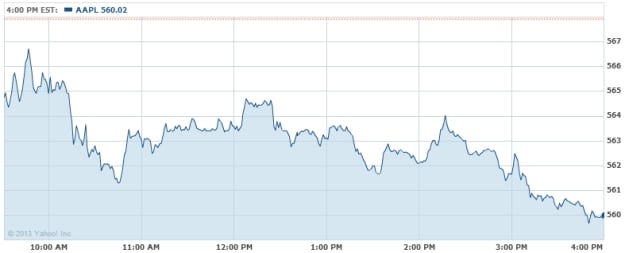 Follow Nathanael on Twitter (@ArnoldEtan_WSCS)
Don't Miss: Apple Honors Nelson Mandela With Website Tribute Page.