Here's How Apple Chalked Up a Major Patent-Infringement Victory

Apple (NASDAQ:AAPL) has emerged victorious in a patent-infringement case that could have beneficial repercussions for other tech companies, reports Bloomberg. Wi-Lan (WILN), an intellectual property licensing company that derives all of its revenue from licensing its patents to various tech companies, filed a lawsuit against Apple in 2011 that accused the iPhone maker of infringing on several patents that cover CDMA and HSPA technologies, according to Wi-Lan's website.
However, a federal jury in Texas has ruled that Apple didn't infringe on these technologies and that both of Wi-Lan's patent claims are invalid. Wi-Lan had previously reached licensing agreements for these technologies with Alcatel-Lucent (NYSE:ALU), Dell (NASDAQ:DELL), Hewlett-Packard (NYSE:HPQ), HTC, Novatel (NASDAQ:NVTL), and Sierra Wireless (NASDAQ:SWIR). Although the company stated that it "does not believe previous license agreements signed related to the patents are negatively impacted by this decision," it will likely make it more difficult for Wi-Lan to pursue new lawsuits against other companies over the claims in these patents.
Apple was able to secure a victory in this case because its iPhones utilize Qualcomm (NASDAQ:QCOM) chips that don't use Wi-Lan's patented technologies. "They are claiming the entire value of the iPhone, including the charger — that's why they are suing Apple and not Qualcomm," noted Apple's lawyer Mark Scarsi via Bloomberg. "You haven't been fooled. You know what's right."
On the other hand, Wi-Lan's lawyers argued that Apple was "slinging mud" in an attempt to avoid paying licensing fees. "The competitors were going to eat their lunch. They had to take a license. Think about the 122 million phones they would not be able to sell without a license," stated Wi-Lan's lawyer Sam Baxter.
Wi-Lan's stock has fallen over 25 percent today after trading in its shares was halted early yesterday afternoon as the jury deliberated. Wi-Lan was seeking $248 million in its suit that it filed in the District Court for the Eastern District of Texas, a popular venue for many patent portfolio companies.
Although Apple has won this battle, it is likely not the last patent-infringement lawsuit that the Cupertino-based company will face this year. PatentFreedom, an organization that caters to companies that are being sued by non-practicing entities like Wi-Lan, recently ranked Apple as the company with the most NPE lawsuits. Here's how Apple has traded over the past five trading sessions.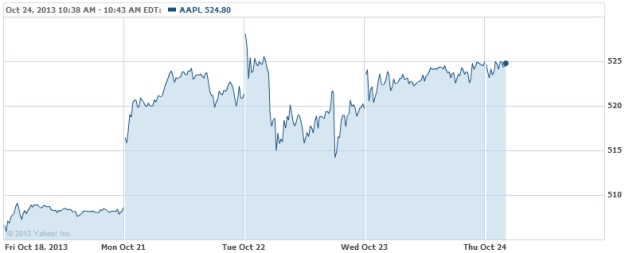 Follow Nathanael on Twitter (@ArnoldEtan_WSCS)
Don't Miss: Is Apple Looking Good Again?