Here's How Apple Helped Verizon and T-Mobile Grow
Verizon Wireless (NYSE:VZ) is growing its lead on rival AT&T (NYSE:T) in the number of smartphones on its network, according to new data from Kantar Worldpanel ComTech. According to the consumer survey, Verizon's share of the smartphone market grew from 30.2 percent last year during the three-month period ending in August to 37.1 percent this summer while AT&T fell from 28.5 percent to 21.7 percent year-over-year.
T-Mobile (NYSE:TMUS) was the only other of the four major U.S. wireless carriers to see growth during the period, increasing from a 12.1 percent share to 13.2 percent year-over-year. Kantar pointed out that although the growth was small, it reversed a long period of decline for the fourth-largest wireless carrier in the U.S. and that 13.2 percent figure is T-Mobile's highest point for the year. Sprint Corp.'s (NYSE:S) share fell from 20.8 percent to 14.6 percent.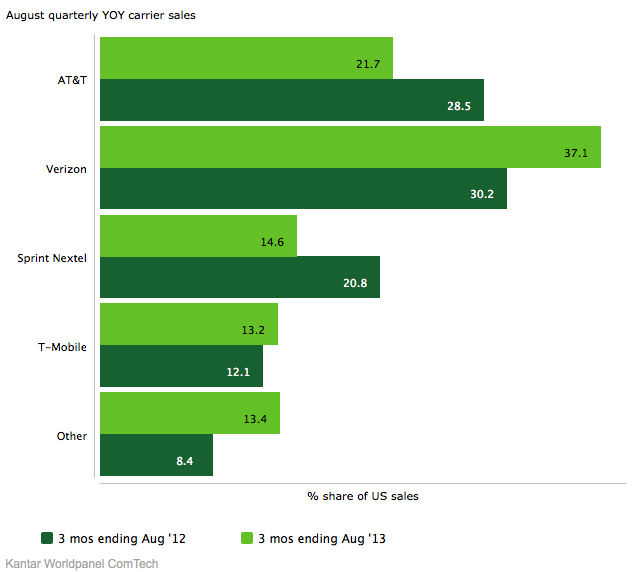 Both Verizon and T-Mobile's numbers were boosted by sales of Apple's (NASDAQ:AAPL) iPhones. While AT&T still dominates Apple iPhone sales in the U.S., accounting for 60.8 percent of iOS devices sold during the quarter, T-Mobile and Verizon have both increased their share of the iPhone market. Verizon saw its share of iOS devices grow from 35.9 percent to 44.6 percent year-over-year. According to a report from Gigaom, this year was the first time that the iPhone was supported on Verizon's LTE network, which probably accounts for the increase in sales.
T-Mobile recently gained the Apple devices this spring after years of not offering the iPhone. Kantar said that T-Mobile's aggressive discounts on smartphones that allow users to pay off the cost of the device over two years with a small fee upfront have helped boost sales. The most popular smartphone sold on T-Mobile during the quarter was the iPhone 5, which accounted for 17.1 percent of the phones sold by the carrier.
The study found that operating system market shares hadn't changed much year-over-year. Apple's iOS increased from 33.9 percent to 39.3 percent, Google's (NASDAQ:GOOG) Android fell from 60.7 percent to 55.1 percent, and all other operating systems accounted for 3 percent or less of the market.
Follow Jacqueline on Twitter @Jacqui_WSCS
Don't Miss: Sorry iWatch Fans, Apple's New Hire Is Not a Wearable Tech Expert.