Here's How Apple Will Maintain the New iPhones' Battery Life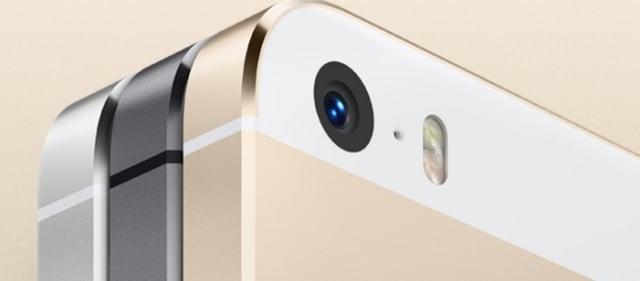 Many consumers at the recent iPhone media event were undoubtedly excited to see Apple (NASDAQ:AAPL) unveil groundbreaking technologies such as the Touch ID fingerprint scanner and the True Tone dual LED camera flash. However, perhaps one of the most important features of the new iPhones is also one of the least talked about tech advancements.
According to a pre-iPhone event survey conducted by Ask.com, the feature that most consumers wanted for the new iPhones was a better battery life. Apple briefly mentioned the improved battery life of the new iPhones at the September 10 media event. Apple noted that the iPhone 5S has a battery life that is "equal or greater than the iPhone 5," despite being equipped with a new, powerful 64-bit A7 processor.
However, the Apple researchers at AnandTech recently revealed how Apple was able to maintain a long battery life for the new iPhones despite the addition of several energy-consuming features. According to AnandTech, the battery capacity of the iPhone 5S increased to 5.96 Whr, or ~1570 mAh — almost a 10 percent increase over the battery size of the iPhone 5.
On the other hand, the iPhone 5C battery only increased by 5 percent when compared to the iPhone 5 battery. However, it should be noted that the iPhone 5C also retained the less powerful A6 chip.
Although boosting the battery size is the typical way to increase battery life, Apple also used a less conventional method to improve the battery life for the iPhone 5S. As noted on Apple's website, the new M7 coprocessor saves additional battery power by handling motion data that would normally be processed by the A7 chip. However, the M7 chip also intelligently saves energy by altering the iPhone's behavior based on contextual awareness. For example, if the M7 chip detects that the user is in a moving vehicle, it will save energy by not requesting access to Wi-Fi networks that the user passes.
Apple customers will soon be able to test the battery capacities for both of the new iPhone models when the devices hit store shelves on September 20. Here's how Apple has traded over the past five days.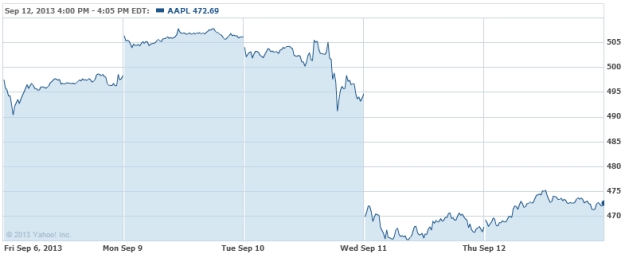 Follow Nathanael on Twitter (@ArnoldEtan_WSCS)
Don't Miss: 4 Cool Apple Announcements You May Have Missed.