Here's How Google's Android OS is Beating Apple and Blackberry
We're still in early days for the exploding mobile phone software market, but we want to stay attuned because smartphones recently surpassed PC sales. And, as we expected, Google's (NASDAQ:GOOG) Android operating system is becoming the Windows (NASDAQ:MSFT) of mobile: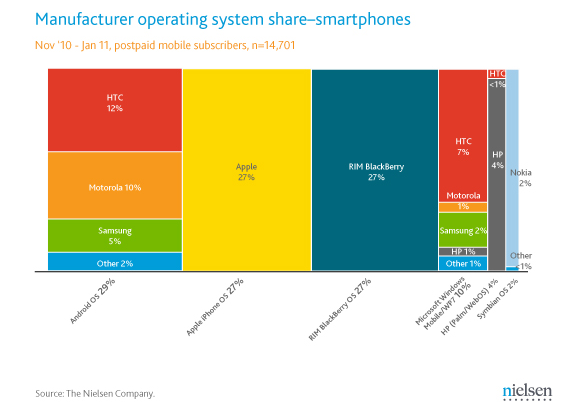 According to a new mobile phone study by Nielsen (NLSN), Android has a 29% market share versus 27% for Apple (NASDAQ:AAPL) iPhone and Research in Motion (NASDAQ:RIMM) Blackberry. However:
But an analysis by manufacturer shows RIM and Apple to be the winners compared to other device makers since they are the only ones creating and selling smartphones with their respective operating systems. HTC follows with 12 percent of consumer smartphone owners having an HTC Android device and 7 percent owning an HTC device running a Microsoft OS. Ten percent of consumer smartphone owners had a Motorola (NYSE:MMI) Android device and one percent owned a Motorola device running a Microsoft OS.
Take note that Microsoft (NASDAQ:MSFT) has fallen far behind with their Windows 7 OS.
If we drill down to use by age demographics, we can see Android is doing the best as well: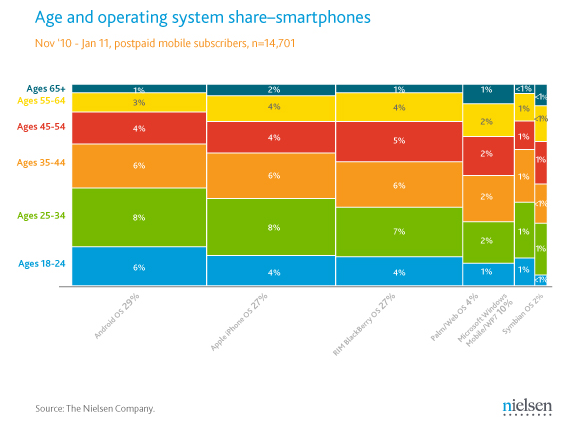 As we said, these are early days. However, keep your eye on this horse race because the prize will be huge.