Investing in the current market is more difficult than ever.  Which is why it is important to have a concrete investing framework in place to help guide decisions.  We abide by our proprietary CHEAT SHEET investing framework.  This framework helps us determine the studs and duds of the market.
On Wednesday, Sony (NYSE:SNE) warned of a fourth consecutive year of losses, making it a true dud in the market.  Sony is a worldwide manufacturer of electronics and information technology products, but has failed to keep pace with other tech studs such as Apple (NASDAQ:AAPL).  Shares of Sony closed down 6% on Wednesday, after the company said it may report a 90 billion yen net loss for the current financial year, down from a previous estimate of a 60 billion yen net profit. Shares are down 48% year-to-date.
Applying our 'Catalyst for a Stock's Movement' from the 'C' in our CHEAT SHEET framework, this poor performance by Sony was a long time in the making.  The company's TV division is on pace to report its eighth straight annual loss, with a $2.2 billion loss for the current year.  It has been five years since Sony excited consumers with its PS3 console, and has failed to deliver additional exciting products to a more wired consumer. Now, Apple is the company of choice to excite consumers and investors.  One of the reasons why Apple shares have vastly outperformed Sony, is because Apple created its own ecosystem for consumers.  Music, video, games, it can all be found on numerous portable and stylish products from Apple.  This has been a huge catalyst for the company, as shares have gained more than 300% in the past 3 years.
Another framework component we use to weed out the duds is 'Technicals on the Stock Chart are Strong.'  As the chart below shows, Sony's share price has been struggling for years, and unable to hold above $35 for a significant period of time.  This year, shares fell below $35 in March, and have been stuck in downward spiral ever since.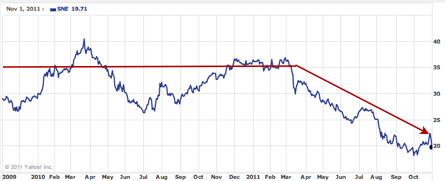 On the other hand, Apple's stock chart has a very strong upward sloping trend line.  Since early 2010, shares have experienced a well defined meteoric rise.  Shares pulled back to test the trend line in August 2010 and June 2011, but support held both times.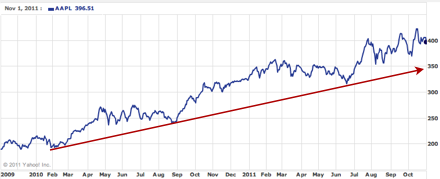 Clearly, Apple's stock is extended from its trend line in this chart. So, now might not be the best time to actually pull the trigger on shares if you're making a shorter term investment. However, the textbook upward trend of Apple shares should give you confidence to add the company to a watch list where you then buckle down to continue more analysis.  Apple also has more catalysts in the pipeline as speculation builds over iTV and iPad 3.
Other tech plays to analyze include: Hewlett-Packard (NYSE:HPQ), Microsoft (NASDAQ:MSFT), Google (NASDAQ:GOOG), Cisco (NASDAQ:CSCO), Intel (NASDAQ:INTC), Baidu (NASDAQ:BIDU), EMC Corporation (NYSE:EMC), and Qualcomm (NASDAQ:QCOM).
Investing Insights: Jeff Bezos has Fire to Ignite Amazon's Stock During the Holidays.