Here's More Apple-Google Patent-Infringement Drama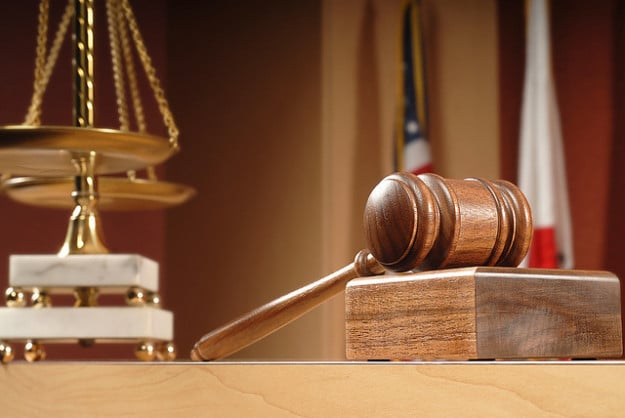 The ongoing patent battle between Apple (NASDAQ:AAPL) and Motorola Mobility entered another phase this week as the two tech companies participated in a hearing about reopening a patent-infringement case that was dismissed last year by Judge Richard Posner in the Northern District of Illinois, reports Reuters. Each smartphone maker accuses the other of violating its patents.
In the original case, Motorola was seeking damages and injunctive relief over Apple's alleged violation of one of the Google (NASDAQ:GOOG)-owned company's standard-essential patents, or SEPs. Apple was also seeking damages and injunctive relief from Motorola over alleged patent infringement. However, the patents Apple was pursuing damages over were non-SEPs, which are not covered by FRAND (fair, reasonable, and non-discriminatory) licensing obligations.
According to Reuters, the three-judge panel in Wednesday's hearing tried to ascertain if either company qualified as an "unwilling licensee." Motorola accuse Apple of refusing to pay licensing fees for a SEP technology that the iPhone maker uses in its devices. If a company is found to be an unwilling licensee, it can potentially have its infringing products banned from sale.
On the other hand, Apple accuses the Google subsidiary of attempting to charge "a rate that was more than 12 times what Motorola was charging other licensees for the same technology — a rate that was unfair, unreasonable, and decidedly discriminatory," reports Foss Patents. However, Motorola has refused to budge from its original licensing fee demands.
It should be noted that both companies appear to be using the courts as a vehicle for inflicting damage to each other's businesses rather than as a venue for seeking relief from actual harm due to patent infringement. However, the case is unlikely to affect either company anytime soon. The United States Court of Appeals for the Federal Circuit may not issue a final decision in this case for up to several months, reports Reuters.
Here's how Apple and Google have traded over the past five days.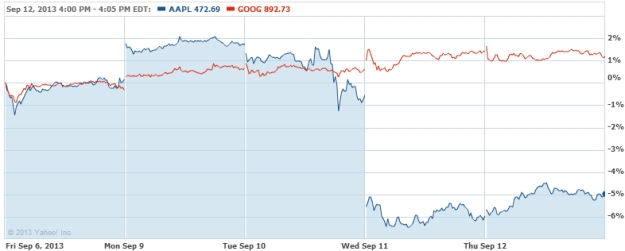 Don't Miss: 4 Cool Apple Announcements You May Have Missed.
Follow Nathanael on Twitter (@ArnoldEtan_WSCS)