Here's the Top Ranking Apple Could Do Without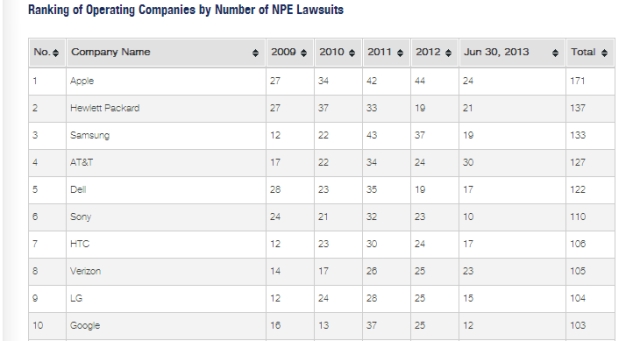 Apple (NASDAQ:AAPL) has secured the number one spot in a list that most companies would rather not be a part of, reports Apple Insider. PatentFreedom, an organization that caters to companies that are being sued by non-practicing entities, has ranked Apple as the company with the most NPE lawsuits.
According to PatentFreedom, a non-practicing entity is "any entity that earns or plans to earn the majority of its revenue from the licensing or enforcement of its patents." These entities are also commonly referred to as "patent trolls," although PatentFreedom prefers to avoid that term since it can sometimes be misapplied to companies that are legitimately trying to protect their intellectual property rights.
Apple has already been the target of 24 separate NPE lawsuits in the first half of this year, which is three more than the second-ranked Hewlett-Packard (NYSE:HPQ). However, when it comes to the total number of lawsuits since 2009, Apple has an even larger lead. Apple has been sued a total of 171 times by NPEs since 2009, which is 34 more than Hewlett-Packard.
Overall, PatentFreedom's list is a veritable who's who list of premier technology companies. Samsung (SSNLF.PK) takes third place on the list with 133 lawsuits from NPEs since 2009. AT&T (NYSE:T) is close behind Samsung with 127 patent lawsuits in the last four and a half years while Dell (NASDAQ:DELL) has 122.
Sony (NYSE:SNE), HTC, Verizon (NYSE:VZ), LG, and Google (NASDAQ:GOOG) take the final five rankings in the top ten, respectively. It should be noted that each of these companies has faced over 100 lawsuits from NPEs since 2009 and none of them have faced less than 12 lawsuits in this year alone.
Since NPEs hold patent portfolios for the express purpose of suing practicing companies and do not actually use those patents, they are "essentially invulnerable to the threat of counter-assertion," notes PatentFreedom. This makes NPE lawsuits "particularly challenging" to practicing companies. One of Apple's most recent NPE lawsuits came from the patent-licensing company DataQuill. DataQuill filed its suit in the District Court for the Eastern District of Texas, a popular venue for many patent portfolio companies.
Follow Nathanael on Twitter (@ArnoldEtan_WSCS)
Don't Miss: Better AppleCare Is Coming Soon to This Major Market.