Here's What Makes the New MacBook Air Even Better
What makes the new MacBook Air so different?  The repair gurus at iFixit have completed their teardown of the new 13-inch MacBook Air to reveal some interesting changes to Apple's (NASDAQ:AAPL) popular laptop model.
As announced at the Worldwide Developers Conference on Monday, the 13-inch MacBook Air has jumped from approximately 7 hours of battery life to an "all day" battery life of 12 hours. The MacBook Air teardown reveals that the 7.3V 6700mAh battery in the old model has been replaced with a slightly larger 7.6V 7150mAh battery.
However, despite the larger battery unit, most of the increase in battery life can be directly attributed to the use of Intel's (NASDAQ:INTC) new Haswell processor. The new processor uses significantly less battery power while offering an even higher workload capability.
Another significant difference in Apple's new MacBook Air is an upgraded solid-state drive, or SSD. The new SSD is physically smaller than the previous unit but features lower access times with a read/write performance of nearly 800 MB per second.
Apple also improved the new MacBook Air's wireless capability by adding the faster 802.11ac Wi-Fi protocol capability. This change is reflected in the laptop's internal components by the inclusion of a new wireless card.
Interestingly, Apple was able to make all of these performance upgrades without significantly altering the overall appearance of the MacBook. In fact, the only change to the MacBook's chassis appears to be a new hole for an additional sound-cancelling microphone. As noted by iFixit, the laptop profile remains amazingly thin at .68 inches at its widest point, and weighs only 2.96 pounds.
Here's how Apple traded on Wednesday: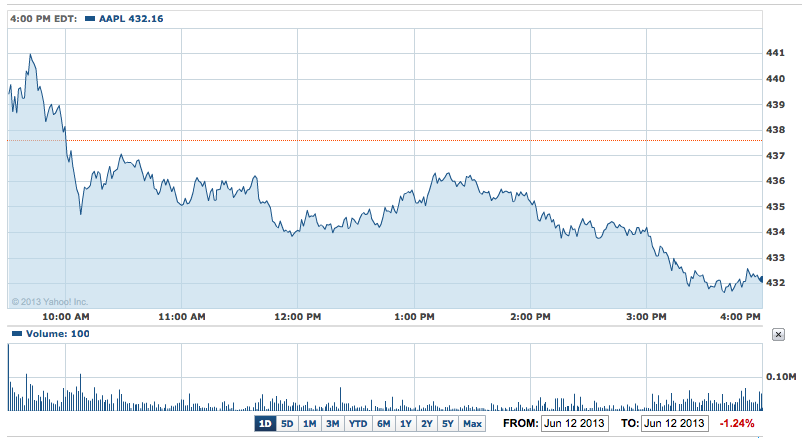 Follow Nathanael on Twitter (@ArnoldEtan_WSCS)
Don't Miss: Apple's New iOS 7: Does It Go Far Enough?