Here's What Most Americans Want: A Tax Reform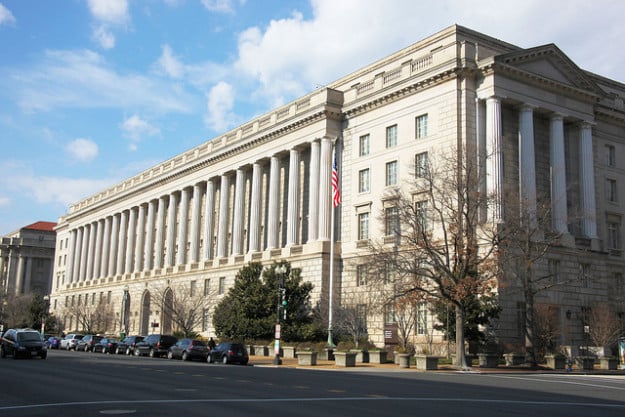 Coming so closely together, the revelations that the IRS made severe missteps during the 2012 election cycle and that Apple (NASDAQ:AAPL) employs offshore tax shelters make a fairly good case for a broad overhaul of the United States' tax system.
Just in the past week, lawmakers in Washington have begun their second day of hearings into the Internal Revenue Service's special examination of conservative groups, while the Senate brought Apple Chief Executive Officer Tim Cook before the Permanent Subcommittee on Investigations to explain the company's tax reduction strategies. Together, these two events have catapulted tax reform to the forefront of the national debate.
"A more transparent, simpler, fairer code is clearly the goal" of such a reform, Representative Dave Camp (R-Mich.), chairman of the House Ways and Means Committee, told Bloomberg TV.
The problem is that even though Americans increasingly acknowledge that the tax system is in need of repair, there is no consensus on how to rectify its most problematic shortcomings. A 2011 survey conducted by the Pew Research Center showed that opinions differed greatly between the rich and poor and between Republicans and Democrats over where the reform should begin.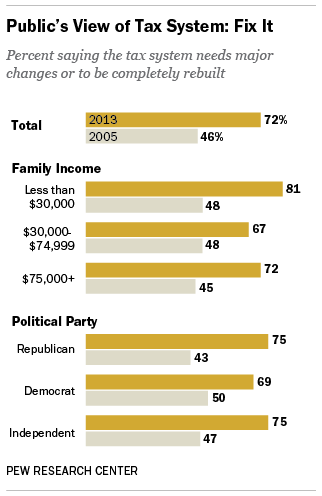 A second Pew survey — conducted earlier this month, before the IRS's missteps surfaced — found surprising level of public agreement that the tax system needed sweeping changes. Overall, 72 percent of respondents said the nation's tax system required changes.
In all, 40 percent said it needs major changes, while another 32 percent said it needed to be completely rebuilt. Only 26 percent of responders said the system worked well enough or needed only minor changes.
Within the data, a clear trend has emerged. Since 2005, the percentage of respondents who believe the tax system needs at least a major change has risen 26 points, while the percentage saying it works fairly well has fallen 24 points.
Even more strikingly, the data shows that the increase among those who think the system requires a major fix has occurred across nearly all partisan and demographic groups.
Yet, Pew's 2011 study of opinions about taxes found there was little agreement on a key question: "What bothers you most about taxes — the large amount you pay in taxes, the complexity of the current system, or the feeling that some wealthy people get away with not paying their fair share?
Shockingly, relatively few people, just 11 percent, said their primarily complaint was the amount they paid in taxes. Even among high-wage earning households, which bring $100,000 or more annually, only 17 percent said they did not like how much they had to pay.
Instead, the majority of respondents, 57 percent, were bothered by what they saw as they system's basic unfairness, which the survey labeled as "the feeling that some wealthy people get away with not paying their fair share." Only 28 percent of respondents chose the system's complexity as their major complaint.
It is important to note that this survey was conducted before January's fiscal cliff agreement increased taxes on most Americans and landed wealthier taxpayers with new, higher rates on income and investments. However, it seems that a larger development would be required to shift attitudes; most Americans would likely still choose fundamental fairness as the main problem with the the U.S. tax system, not its complexity, if asked the same question now.
Follow Meghan on Twitter @MFoley_WSCS
Don't Miss: JPMorgan's Dimon Is Staying in Power.