Here's What NTT DoCoMo's Results Mean for Apple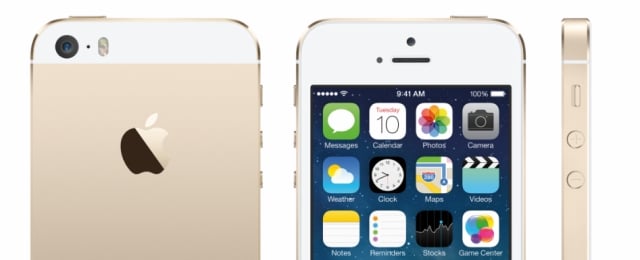 Will NTT DoCoMo's (NYSE:DCM) mediocre iPhone sales put a damper on Apple's (NASDAQ:AAPL) fiscal fourth-quarter results? Stifel analyst Aaron C. Rakers took a close look at the Japanese carrier's recently reported earnings results in order to gauge any possible effect on Apple's earnings, ValueWalk reports.
Apple announced a distribution deal with DoCoMo on September 10, the same day the company unveiled its new iPhone 5S and iPhone 5C. Many analysts were predicting that Apple would receive a significant boost from DoCoMo because it is Japan's largest carrier, with more than 60 million subscribers and a 45 percent share of the market.
However, several weeks after acquiring the iPhone, DoCoMo noted a record drop in monthly subscriptions. DoCoMo's September-quarter earnings report confirmed this trend. According to ValueWalk, DoCoMo activated approximately 2.97 million smartphones in the period, a decline from 3.95 million in the same quarter last year. This is also a decline from the 3.35 million smartphones activated in the previous quarter.
Although DoCoMo had unusually weak smartphone sales in the September quarter, Rakers believes it is a "non-event" for Apple since the new iPhones were  only on sale during the last 10 days of DoCoMo's September quarter. Like many other carriers, DoCoMo also reported that it didn't have enough iPhones to meet consumer demand. DoCoMo President and CEO Kaoru Kato cited the initial iPhone supply shortage and the company's unfamiliarity with Apple's products as the two major reasons for DoCoMo's limited iPhone sales.
"Initially, after the launch, we did not have sufficient inventory and the shops handling the iPhone were limited. Therefore, we have to admit that we were not really sufficient in handling the iPhone inquiries, but the effects of introduction are becoming gradually visible," Kato said during the company's earnings conference call. "And of course, we are not really fully accustomed to this product, so we will try to overcome this challenge and boost our competitiveness going forward."
Stifel's analysts believe that DoCoMo's iPhone sales will increase going forward now that Apple appears to have resolved its initial iPhone 5S production constraints. This should allow the Cupertino, California-based company to generate significant sales during the current holiday shopping quarter.
Besides its recently signed distribution deal with DoCoMo, Apple also has distribution deals with Japan's two other major carriers: SoftBank and KDDI. Apple CEO Tim Cook noted Apple's previous success with DoCoMo's rival carriers in his DoCoMo distribution deal announcement.
"NTT DOCOMO has built an impressive network, the largest in the nation with over 60 million customers," said Cook. "We've enjoyed tremendous success with iPhone in Japan, in fact it's the top selling smartphone in the country, and we look forward to delivering iPhone into even more customers' hands through NTT DOCOMO."
Here's how Apple traded last week.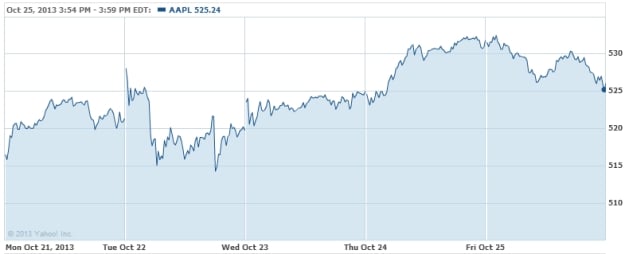 Follow Nathanael on Twitter @ArnoldEtan_WSCS
Don't Miss: Motorola Undercuts Apple's iPhone 5S With a New Moto X Price.