Here's Why Apple's iPhone 5 Flaws Are Irrelevant
Carrying the title of the world's most valuable company has its pros and cons. On the positive, it must be doing something right and generating massive profits. When a new product is ready to be unveiled, the whole media industry is ready to offer free advertisement. However, when companies on high pedestals have the slightest hiccup, it can quickly become a public relations nightmare. At the end of the day though, most interested parties simply want to know if it will affect the company's bottom line.
Last month, Apple (NASDAQ:AAPL) launched its highly anticipated iPhone 5. Sales of the new smartphone hit a record breaking 5 million units in the opening weekend, but fell short of over-hyped expectations. Despite Apple selling out of its initial supply, media stories focused of weakened demand for the iPhone 5, which quickly developed into concerns over new features, such as Apple Maps.
The new application from the company itself replaced the popular Google (NASDAQ:GOOG) Maps. From inaccurate location searches to distorted satellite images, the reported problems with Apple Maps caused a headache for the company. Tim Cook, chief executive officer, even issued an apology letter for the entire world to see and suggested that users try alternatives such as Microsoft's (NASDAQ:MSFT) Bing or Nokia (NYSE:NOK) Maps. Through all of the noise, Apple's stock price has declined about 9 percent over the past month, but customers appear to have labeled Maps-gate as irrelevant.
Apple has been a huge winning stock pick for Wall St. Cheat Sheet Newsletter subscribers. Don't waste another minute — click here and get more of our CHEAT SHEET stock picks now.
A new survey from 451 Research/ChangeWave Research finds that the negative exposure from Apple Maps has not affected consumers' willingness to purchase the iPhone 5 in the future. The organization surveyed 4,270 primarily North American consumers to gauge overall demand for the new smartphone. It found that 19 percent are "Very Likely" to buy the iPhone 5 for them-self or someone else in the future, while 13 percent said they are "Somewhat Likely." In comparison, a similar survey taken last year on the iPhone 4S found that 10 percent and 11.5 percent were "Very Likely" and "Somewhat Likely" to buy a unit.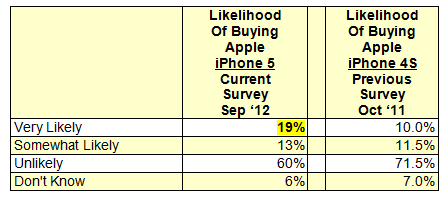 In essence, the amount of people "Very Likely" to buy the iPhone 5 doubled from Apple's last smartphone offering in only one year. Furthermore, the survey found that nine in ten users reported that they had "No Problem at All" or "Haven't Experienced Any Problem" with Apple Maps. Only 3 percent classified it as a "Very Big Problem," while 6 percent said it was "Somewhat of a Problem." When the iPhone 4 encountered its antenna issue back in 2010 and attracted a heavy amount of negative attention, a ChangeWave survey found that 7 percent of iPhone 4 owners reported the issue as a "Very Big Problem," indicating that the recent Maps issue is very minimal. The new Lightning port was also seen as a non-issue.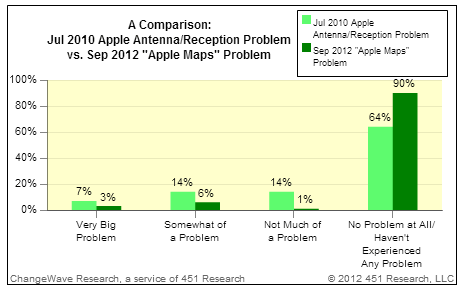 "Despite the media attention surrounding both the Apple Maps issue and the Apple Lightning port issue, neither has had an impact on the massive numbers of buyers queuing up to buy the iPhone 5," said Dr. Paul Carton, ChangeWave's VP of Research. "Rather, the survey results show both issues hardly rank as bumps in the road." Among those that said they were "Unlikely" to purchase the iPhone 5, zero percent said it was because of Apple Maps.
At this point in time, there appears to be no real concern over the hiccups found in Apple Maps. Supply issues and high expectations from analysts may weigh down on Apple's bottom line or stock price, but consumers are still craving Apple products by the bunch.
Investor Insight: Apple and Lenovo Avoid Rapid Plunge in PC Market