Here's Why Apple Is So Ready for 2014
Sometimes there are days you just want to forget. For Apple (NASDAQ:AAPL), all of 2013 is turning out to be like that. So says Topeka Capital analyst Brian White in a research note written as a prelude to Apple's earnings scheduled for the close of the trading day on Tuesday. Notably, White has an ultra bullish 12-month price target of $888 on the iPhone maker along with a Buy rating.
Is Apple now a once-in-a-decade buying opportunity? Click here to get your 24-page Ultimate Cheat Sheet to Apple's Stock now!
However, for its second quarter, White expects Apple to report $41.94 billion in revenue, compared to the Wall Street consensus of $42.3 billion. His EPS projection for the company for the three months ending in March is $10, slightly higher that the Street figure of $9.98. White's sales projections represent a 23 percent quarter-over-quarter decrease, and a weaker-than-average March quarter decline of 18 percent over the past six years. As far as product sales figures go, White expects iPhone sales of 34.97 million units and iPad sales of 18.4 million units.
"We believe investors will look back on fiscal year 2013 as a year to forget as the higher-end smartphone market began to slow and Apple's growth was negatively impacted," White writes. "In fact, our current model suggests that Apple will experience nearly a 1 percent decrease in EPS during fiscal 2013 and the first decline since fiscal 2003."
The Apple stock has fallen almost 40 percent since the start of the company's fiscal first quarter in October, with no new products this calendar year yet and rumors pegging release dates of all hardware upgrades to the second half of the year.
Here's a closer look at the stock price tumble since October: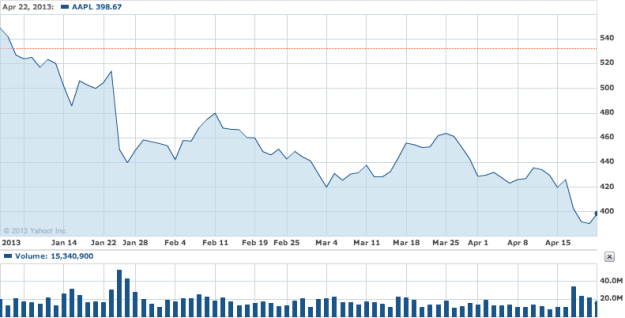 White goes far enough to reduce his fiscal third-quarter revenue projection to $36.5 billion from $43.3 billion and cut his EPS estimate to $7.83 from $10.42. However, as those product releases eventually head closer, the company and its investors may start seeing their pots of gold again…
According to White, by the start of fiscal year 2014 — which for Apple begins in October — a new product cycle will ramp up to open new growth opportunities for the company. "We expect a lower-priced iPhone to be unveiled this summer (now reflected in our model) and positively impact growth in fiscal 2014, while we expect iTV will be launched, iWatch to be unveiled, and China Mobile (NYSE:CHL) to finally reach an agreement with Apple," White explains.
The Topeka analyst does have a clear-cut sustainable stock recovery plan for the company. That includes investor payback, finding a new profit cycle bottom, and finding new growth areas.
EXCLUSIVE OFFER! Take Advantage of the Tax Relief 50% Off Sale for a Limited Time. CLICK HERE for your Weekly Stock Cheat Sheets NOW!
"First off, we believe Apple needs to dig deeper into its $137.1 billion cash balance to attract more value investors and provide a safety net around the stock," he writes. "Second, we believe a bottom needs to form in Apple's EPS and operating profit cycles, which we believe will result in a trough in the stock price. Finally, we believe Apple needs to tap into new growth opportunities and this could come in a variety of flavors, including a lower-priced iPhone, a relationship with China Mobile, iTV with iRing, and the much-anticipated iWatch."
Don't Miss: Here's Why Apple Bears Need to Hibernate.