Here's Why Apple May Get a Holiday Shopping Bonus This Year

Will the holiday shopping season be bigger than ever for Apple (NASDAQ:AAPL) this year? During Apple's fiscal fourth quarter earnings call on October 28, CEO Tim Cook predicted that "it's going to be an iPad Christmas." Cook was, of course, referring to the recent release of the new 9.7-inch iPad Air and the upgraded 7.9-inch iPad mini with Retina display.
However, a recent survey suggested that Santa may actually be picking something else up at the Apple Store this year. According to a survey conducted by Ebates, 32 percent of children between the ages of 12 and 17 have an iPhone at the top of their Christmas wish list this year, reports Cult of Mac.
The Ebates survey also indicated that the majority of children appeared to prefer iOS-based devices over the Android-based smartphones made by Apple's competitors. According to the Ebates survey, only 12 percent of children requested a Samsung (SSNLF.PK) Galaxy smartphone.
Although the survey didn't explain why Apple's devices are more popular with children, one possible reason might be related to the mobile operating system. Apple's iOS is generally regarded as a more intuitive operating system for novice users and therefore perhaps easier for children to use.
This may hold especially true for users that are even younger than 12-years-old. A recent Common Sense Media study found that the percent of children under the age of eight that have access to some type of "smart" mobile device in their home jumped from 52 percent in 2011 to 75 percent in 2013. This rate of usage among children is only likely to increase in the coming years, since the study also found that 38 percent of children under the age of two have already used a mobile device at least once.
Another reason why Apple's devices are making inroads with younger users could be related to the Cupertino-based company's recent push into the education market. For example, the Los Angeles Unified School District awarded a $30 million contract to Apple in June as part of an overall plan to supply iPads to all of the 640,000 students in the district by the end of 2014. Similarly, the Ames Community school board in Iowa recently approved a $1.4 million initiative to supply 1,425 MacBook Air laptops to all the students at Ames High School.
Besides gaining early access to younger users through the educational system, Apple has also bolstered its reputation as a "kid-friendly" ecosystem by unveiling a new "Kids" category for the App Store last month. As reported by TechCrunch, Apple also recently began allowing children under the age of 13 to register iTunes accounts through an "approved educational institution."
For all the reasons above, more Apple gadgets may appear under Christmas trees this year than ever before. Here's how Apple has traded over the past week.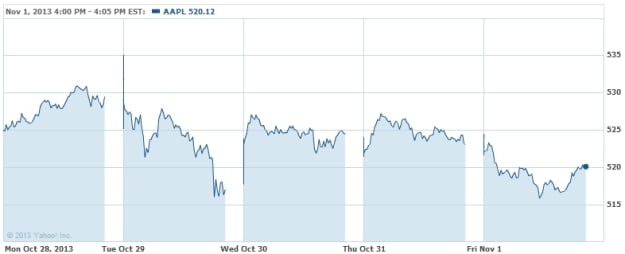 Follow Nathanael on Twitter (@ArnoldEtan_WSCS)
Don't Miss: Japanese Carrier Sees Quarterly Revenue Spike Thanks to Apple's iPhone.