Here's Why Apple Users Already Like Facebook's New App
Facebook (NASDAQ:FB) was one of many companies that unveiled an updated app optimized for iOS 7 when Apple (NASDAQ:AAPL) rolled out its new mobile operating system on Wednesday. However, unlike many companies that implement app changes, Facebook was confident that Apple users would like the updated app because it had already secretly tested it on 8 million users, reports The Verge.
So how was Facebook able to surreptitiously conduct beta tests on unwitting Apple users? Last year Facebook transitioned from an HTML5-based app to an app based on native code. Although this improved the overall usability of Facebook's iOS app, it also made it harder for the company to test new app iterations since the app code actually resides on a user's iPhone.
Moreover, Apple must approve every app update before it is forwarded to users. This restriction made it impractical for Facebook to conduct the traditional type of beta testing that app developers do, since every change in the app would necessitate getting the entire app re-approved by Apple.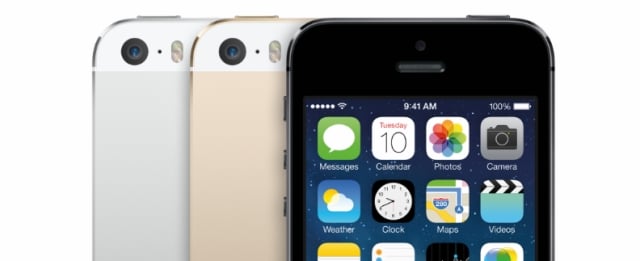 However, in an exclusive interview with The Verge, the creators behind Facebook's new iOS 7 app revealed their unique solution to this testing conundrum. Rather than trying to constantly ship out altered apps for Apple's approval, Facebook embedded several different versions of the native app within an earlier version of the app.
This method allowed Facebook to activate various new features of its app for a particular group of users in order to gauge their reaction to the changes. Since the new features were already approved by Apple as part of the original app, Facebook didn't have to resubmit the altered app for approval again.
This allowed Facebook to conduct real time usability tests for features that are now part of its new iOS 7 app. One of the changes that Facebook secretly tested was a reworked navigation bar. However, don't be surprised if you didn't notice Facebook's secret app testing.
Facebook claims that most users didn't appear to notice the activated changes because the changes were so subtle and intuitive. However, Facebook's creative app-testing workaround gave it an advantage that most app developers didn't have. "This is the first time we know exactly the impact a huge native release will have on our users before we ship it out," Facebook told The Verge.
Facebook's cautious iOS 7 app transition was also likely motivated by Apple users' unusually high adoption rate for new iterations of iOS. According to mobile analytics platform Mixpanel, iOS 7 adoption has almost crossed the 50 percent threshold less than four days after the operating system's public release on Wednesday.
Here's how Apple and Facebook traded on Friday.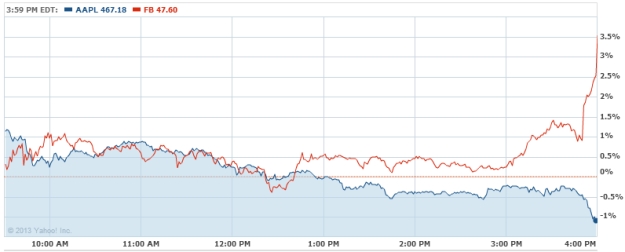 Follow Nathanael on Twitter (@ArnoldEtan_WSCS)
Don't Miss: NY Attorney General to iPhone Owners: Download iOS 7.