Here's Why Apple's Software Giveaway Is a Clever Sales Ploy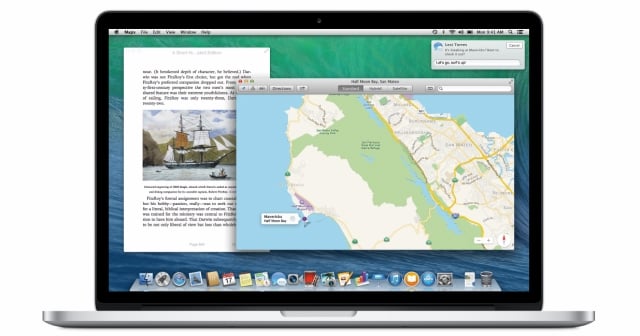 In a move that threw down the gauntlet to companies that still charge for software, Apple (NASDAQ:AAPL) announced at its recent media event that its Mac OS X Mavericks will now be offered for free. "Today we're going to revolutionize pricing. The days of spending hundreds of dollars to get more out of your computer are gone. Today we announce a new era for the Mac because today, Mavericks is free," said senior vice-president of software engineering Craig Federighi to wild applause at Tuesday's media event.
However, some industry watchers question if Mavericks is truly free. According to tech analysts cited by MarketWatch, Apple's "free" operating system is not really free since the cost is likely going to be passed on to consumers in other indirect ways. Some analysts believe Apple is adding the cost of its "free" software into its overall device prices.
"Apple has taken the strategy of giving its software away for free in order to improve the customer's user experience and spur the purchase of premium hardware," noted Morningstar analyst Brian Colello via MarketWatch. "It's a clear contrast to Amazon (NASDAQ:AMZN), which appears to be selling its tablets at close to cost, in order to drive media and content purchases."
In other words, Apple is able to give its software away because it is recouping the money via its hardware prices. While some companies choose to break even on hardware in order to sell software or other content, Apple is choosing to take a loss on its software in order to drive sales of its laptop and desktop computers.
Although it's not clear which strategy is more effective in the long run, Apple has apparently decided to emphasize the initial user experience in order to draw consumers into its so-called "walled garden" ecosystem. Apple's free software offer also gives the company another reason to justify its higher hardware prices. "Apple has basically established that there is more value than just an operating system," noted e-commerce consultant Bryan Eisenberg via MarketWatch. "It makes boatloads of money from the whole ecosystem. Give people a great experience and they will pay for extras."
Although Apple's Mac OS X Mavericks operating system may not be completely "free" by some analysts' definitions, the software giveaway is still likely to encourage many bargain-hunting computer shoppers to reconsider the additional benefits of investing in Apple's premium ecosystem. In this sense, Apple's "free" software giveaway may be the Cupertino-based company's smartest sales ploy to date.
Follow Nathanael on Twitter (@ArnoldEtan_WSCS)
Don't Miss: Is Apple Looking Good Again?