Here's Why India May Soon Become Apple's Next Big Market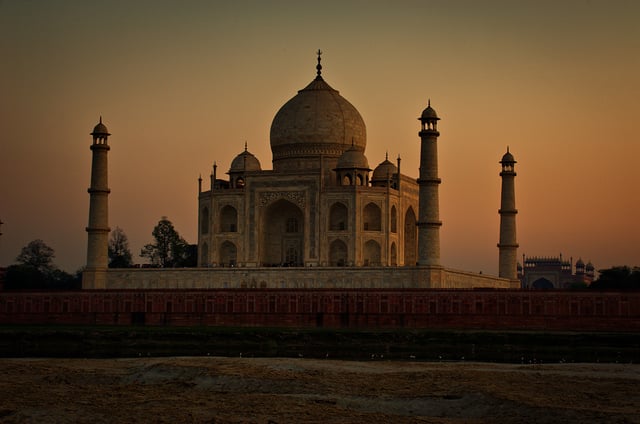 Has Apple (NASDAQ:AAPL) finally found a way around one of the major obstacles to its growth in the Indian market? According to market research firm Canalys, India is the world's third-largest smartphone market, with 9 million units shipped in the second quarter of 2013. However, while rival Samsung (SSNLF.PK) holds approximately a third of this market, Apple has only a 2 percent share.
Apple's low penetration in the Indian market is largely due to its relatively high product prices. As noted by the Wall Street Journal, Indian carriers typically do not subsidize the cost of smartphones with long-term contracts due to the lack of a national credit-rating database. This leaves Apple at a competitive disadvantage, since its devices are far more expensive than the low-end smartphones that dominate India's smartphone market.
However, a new initiative from India's third-largest telecom may soon eliminate Apple's price disadvantage. According to the Wall Street Journal, Reliance Communications will soon begin subsidizing the price of Apple's iPhone 5S and iPhone 5C by offering the devices with a standard two-year contract.
This will make Apple's new iPhones much more affordable for Indian consumers. In India, Apple's iPhone 5S sells for an off-contract price of 53,500 rupees, or about $871. However, Indian consumers will now be able to get the iPhone 5S through Reliance Communications for the relatively low amount of 2,999 rupees, or $48, per month. Similarly, the iPhone 5C, which normally costs 41,900 rupees ($682) off-contract, will now be available for 2,599 rupees ($42) per month.
Although India still lacks a large credit-rating database, Reliance Communications has worked around this problem by partnering with several credit card companies. For this reason, only subscribers with credit cards will be eligible for the two-year iPhone contract offer, reports the Wall Street Journal.
While it is still unknown what affect this new deal will have on Apple's overall sales in the Indian market, it should be noted that a previous iPhone monthly installment plan designed especially for the Indian market earlier this year boosted monthly iPhone sales by 300 to 400 percent. More recently, the Economic Times reported that Apple has plans to increase its sales in India's smaller markets via "shop-in-shop" locations, as well as "standalone stores."
As previously announced by Apple, both the iPhone 5S and the iPhone 5C became available in India on November 1. Here's how Apple has traded over the past week.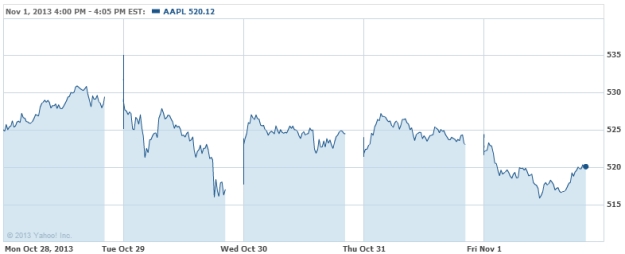 Follow Nathanael on Twitter (@ArnoldEtan_WSCS)
Don't Miss: Here Is How Samsung Outscored Apple in Tablet Customer Satisfaction.