Somewhere, Reed Hastings is thanking his lucky stars that some attention has been diverted from Netflix (NASDAQ:NFLX) and placed on Coinstar (NASDAQ:CSTR).  Mr. Hastings is the CEO of Netflix, and has been under fire lately for his business decisions.  Over the past three months, Netflix shares have lost nearly 70% after a price hike, spinoff plan gone bust, and losing 800,000 subscribers in the third quarter.  In fact, Netflix is the worst performer in the S&P 500 (NYSE:SPY) for October.  However, Coinstar has given Netflix a much needed breather.
On Friday, shares of Netflix climbed 3% higher, while Coinstar fell by more than 7%.  Despite topping Wall Street's third quarter estimates, Coinstar raised its Redbox DVD rental fees by 20% to $1.20.  The company cited higher operating expenses, and CEO Paul Davis reminded customers and investors that this was the first time in eight years that Coinstar has raised prices.  Many analysts were quick to criticize Coinstar, because the company has a golden opportunity to steal away angry Netflix customers.  As the chart below shows, this is what investors expected as well.  Shares of Coinstar and Netflix diverged in a big way since the beginning of the Netflix debacle.
Hot Feature: Witness the Mind Blowing Future According to Microsoft.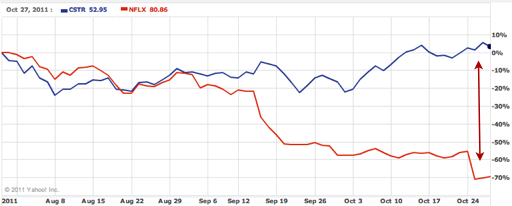 Before the Coinstar selloff reaches Netflix levels, investors should consider that Coinstar communicated its price hike better than Netflix did.  The company cited cost issues, and even conducted trial price increases in several cities during the past year to see how customer would react.  The management found that there was only a slight drop-off in movie rentals.  Netflix on the other hand, blind-sided customers with a 60% price hike, and confused them even more by announcing a spinoff company named Qwikster.
Rising costs and competition are challenging entertainment providers.  Netflix relies on content from CBS (NYSE:CBS), Disney (NYSE:DIS), Starz (NASDAQ:LSTZA), and others.  These companies are charging more for their content as online streaming gains in popularity.  According to a new report by Sandvine Intelligent Broadband Networks, Netflix accounts for 32.7% of peak US downstream traffic.  Although Coinstar does not currently have online streaming, the company is planning to launch such a service.  If Coinstar is going to compete with Netflix and other media providers such as Amazon (NASDAQ:AMZN), Youtube (NASDAQ:GOOG), and Dish (NASDAQ:DISH), prices have to be raised in order to gain new content and keep viewers happy.  Companies are also trying to position themselves ahead of Apple TV (NASDAQ:AAPL).  Instead of criticizing Coinstar, analysts should applaud the company for not having to raise prices until now, and communicating the price increase better than Netflix.
Investing Insights: Are These 5 Momentum Stocks Broken?