Here's Why Microsoft MUST Rebrand as Bing Now
Face it, Bill Gates: Microsoft's (NASDAQ:MSFT) brand tells consumers the underlying product is buggy, susceptible to viruses and hackers, and often crashes.
For that incredibly important reason, Steve Balmer et al MUST rebrand Microsoft as Bing now.
Bing has a Slick Brand Conveying Quality and Great User Experience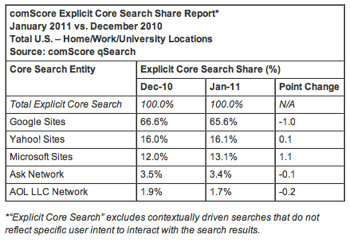 According to comScore (NASDAQ:SCOR), Bing has done an awesome job taking search market share from Google (NASDAQ:GOOG), Yahoo (NASDAQ:YHOO), Interactive Corp (NASDAQ:IACI) and AOL (NYSE:AOL). The young search engine already has 13.1% — only a few percentage points behind Yahoo's 16.1%.
The bottom line is users like Bing's slick user interface and higher quality search results. Results are so good, even search king Google (65.6% market share) is undergoing a major overhaul of their algorithm to banish spammers and low quality sites to search Hades. When the dominant company in any business makes significant changes to react to a much smaller competitor, the insurgent is doing something very right.
Bing Eliminates Baggage Associated with Microsoft Brand
Microsoft has painstakingly spent mega-millions trying to salvage their brand after being completely mismanaged. Why fight the current?
Microsoft should immediately reallocate all that money toward a new campaign to rebrand all products excluding Windows (sorry, you simply can't save something that is still a piece of crap).
If management was super smart, they would start by repackaging Windows 7 mobile operating system as Bing OS. Slick, beautiful, and high quality. Honestly, this is one of the few ways Microsoft can quickly make up for millions of miles of lost ground to Apple's (NASDAQ:AAPL) iPhone, Google's Android, and even Research in Motion's (NASDAQ:RIMM) also-ran OS for Blackberry.
I haven't forgotten about Microsoft's other hugely successful branding campaign: Xbox. However, I don't think the Xbox brand has as much potential to cover a wide product base simply because the brand has a much longer history associated with video games. But a Bing OS opens the door for an awesome tie-in with the Xbox brand for generating much more revenue from the white hot mobile gaming space.
Bing Now
Alright. There's my "If I were CEO of Microsoft" rant for the day. If anyone over there wants some more consulting, email me. Need my contact info? Bing it.