Here's Why Mobile Startups Prefer Apple's iOS Over Google's Android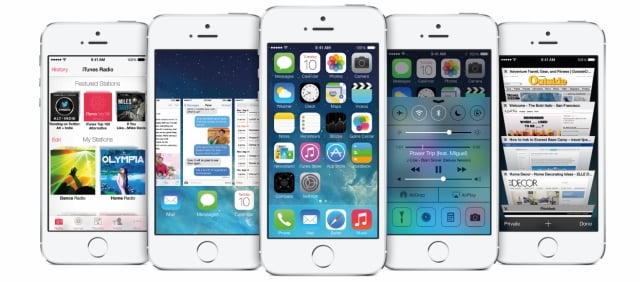 Will Google's (NASDAQ:GOOG) Android eventually become the default platform that startups develop for? Not likely, tech industry commentator Steve Cheney said in a recent blog posting. According to his CrunchBase profile, Cheney is currently head of business development at GroupMe and has years of experience in the hardware and software industries.
Android's majority share of the worldwide mobile operating system market has led some analysts to predict that Google's platform will soon become the primary one for app developers. However, Cheney argues that there are many other factors besides Android's "vanity metrics" that make it very unlikely that the OS will be able to unseat Apple (NASDAQ:AAPL) as the initial platform of choice for mobile startups.
First, Cheney noted that Apple's iOS has maintained a significant share of the U.S. market despite Android's worldwide growth. Since the majority of mobile startups originate in the U.S., app developers tend to gravitate toward Apple. According to comScore's latest data, Apple's iOS held a 40.7 percent share of the U.S. smartphone market in August, while Google's Android had a 51.6 percent share. (However, it should be noted that this data predate Apple's recent iPhone launch.)
Second, Cheney pointed out that developing for Android is two to three times more expensive than developing for iOS for a number of reasons. Many of the reasons are related to the fragmentation of Android's operating system.
According to Bloomberg Businessweek, only 45 percent of Android users are running the latest version of the operating system. In contrast, more than 93 percent of Apple's mobile devices were running the latest version of iOS the day before iOS 7 was released. Android's fragmentation results in higher costs for developers, since they may need multiple engineers for all the different versions.
Third, Cheney noted in his blog post that the various capital-raising constraints venture-backed startups face today make it difficult to start on two separate mobile platforms. Since it typically costs more to develop for Android, most companies pick Apple's iOS as their primary platform.
Finally, since Apple's App Store generates over twice as much revenue as Google's app store, it becomes the natural choice for revenue-starved startups. As pointed out by Cheney, a recent study by advertising software company Nanigans demonstrated that Facebook (NASDAQ:FB) ads are 1,790 percent more profitable on iOS.
All of these reasons make iOS the primary choice for mobile startups and reinforce Apple's position as the more favorable mobile operating platform for generating a profit from apps. Here's how Apple traded over the past week.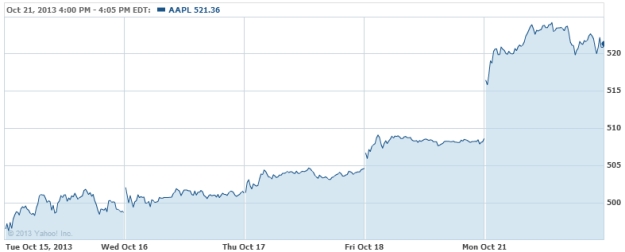 Follow Nathanael on Twitter @ArnoldEtan_WSCS
Don't Miss: Analyst: This Is Apple's 'Most Important iPad Refresh' Since 2010.