Here's Why Obama Doesn't Have an iPhone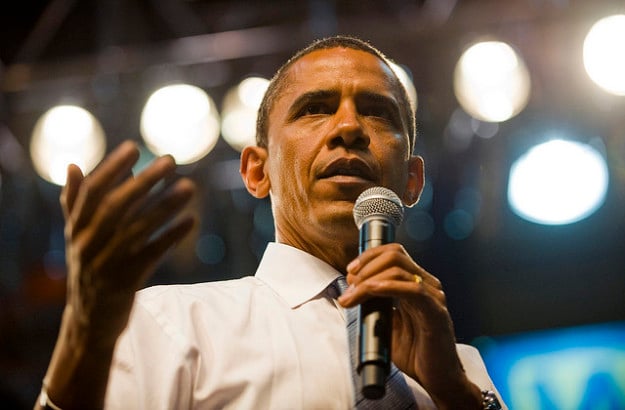 President Barack Obama revealed why he doesn't own one of Apple's (NASDAQ:AAPL) iPhones while promoting his healthcare bill at a recent event. "I'm not allowed for security reasons to have an iPhone," said Obama, according to The Verge. Obama made the revelation while he was illustrating the low cost of health insurance through Obamacare.
"Most young people without insurance can now get covered for under a $100 a month," stated Obama at a youth meeting. "My suspicion is that for a lot of you, between your cable bill and your phone bill, you're spending more than $100 a month. The idea that you wouldn't want to make sure you've got the health security and financial security that comes with health insurance for less than that price, you guys are smarter than that. Most young people are as well," he added.
Although the Commander-in-Chief is not allowed to use Apple's iPhone, he is a long time BlackBerry (NASDAQ:BBRY) user. However, the President had to fight to win the privilege to use that device. "I'm still clinging to my BlackBerry," noted Obama in a 2009 interview on CNBC. "I'm hoping to see if there's some way that we can arrange for me to continue to have access to a BlackBerry."
Although Obama eventually won the privilege to keep his prized BlackBerry, he later revealed to ABC's The View that only 10 individuals are permitted to contact him through the device. BlackBerry has long been the primary choice for government users, although this may change now that the Canada-based smartphone maker is struggling to stay in business. According to DefenseTech, the Pentagon supports over 600,000 commercial devices, including 470,000 BlackBerry devices, 41,000 iOS devices, and 8,700 devices that use Google's (NASDAQ:GOOG) Android platform.
The U.S. government isn't the only government to cite security concerns about Apple's iOS-based devices. According to the Russia-based RT news site, the German government has phased out its use of Apple's iPhones as part of a new secure communications initiative. German government officials are forbidden to use iPhones under the new security guidelines, because certain government-approved encryption software is incompatible with Apple's devices. Germany's program is being implemented in response to reports that the NSA (or, National Security Agency) may have been intercepting Chancellor Angela Merkel's communications since 2002.
As noted by Reuters, leaked information provided by former NSA contractor Edward Snowden indicated that Apple previously allowed the agency to access its servers. Apple denied the allegations and recently released a "Report on Government Information Requests" in order to reassure its customers about its commitment to user privacy. However, it should be noted that the amount of information that Apple is allowed to share about these information requests is still restricted by the U.S. government.
Here's how Apple has traded over the past five sessions.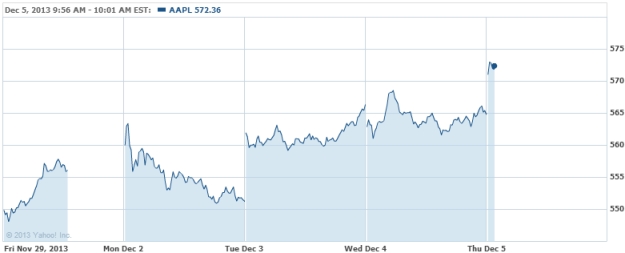 Follow Nathanael on Twitter (@ArnoldEtan_WSCS)
Don't Miss: Insider Source: China Mobile Will Soon Announce Apple Deal.